CASERTA
and Caserta vecchia
our first stop in campania was at caserta. caserta was a sleepy hilltop town, founded in the middle ages, when king charles III of naples decided to build a royal palace on the plain below the town. charles was a member of the bourbon family, related to the kings of france, and decided that he wanted his own version of the french palace of versailles. work was begun in 1752 and continued for the rest of the 18th century, even after charles' death. the kings of naples continued to use the palace as their primary residence until 1859, when the bourbon kings were overthrown by those who wanted to unite all of italy.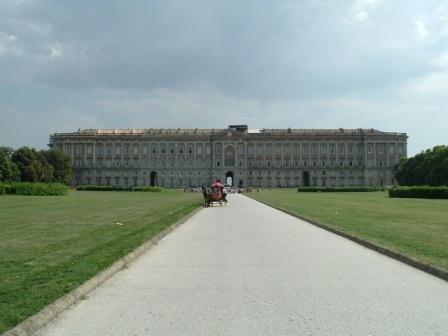 the palace facade is meant to impress with its enormity.

stretching out from the palace are 50 acres of park and gardens.

as at versailles, vistas are intended to show the size and opulence of the grounds. unfortunately, the poverty of southern italy means that the grounds today are not nearly as impressive as they once were.

a series of huge reflecting pools are also impressive.

at the far end of one of the pools, a massive baroque fountain.
Up on the hill, the medieval town--now known as Caserta Vecchia or "old caserta"--offers even more picturesque views.

narrow streets lead to and from the cathedral at the center of the town.

the cathedral dates from the 12th century.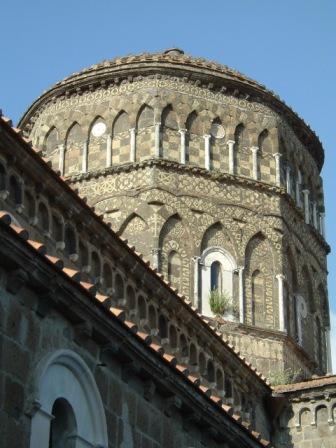 the details on the campanile and central tower show the mixed Roman, Lombard, and Moorish influences on southern Italian architecture in the middle ages.

the interior is plain, probably similiar in outlook to the original christian churches of rome.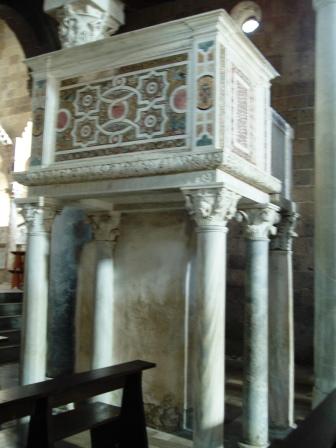 most elaborate is this pulpit, with inlaid stone mosaics.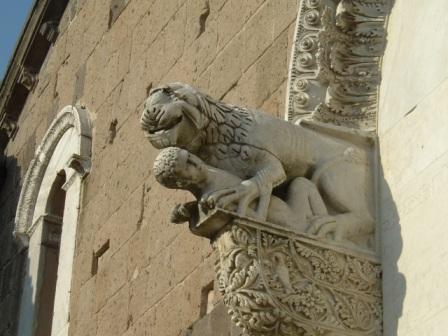 on the front facade of the cathedral, there was this odd sculpture of a lion attacking a man.
from caserta, we drove on, past naples, to our hotel at sant'agnello near sorrento.