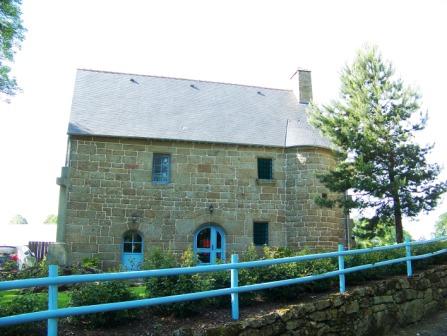 Our Second Week's House
in Saint-Germain-en-Coglès
and Fougères
In our second week we stayed at a terrific place in the countryside near Fougères,
outside of a village called Saint-Germain-en-Coglès. It was part of a dairy farm,
run by a sweet elderly couple, who left us fresh eggs, milk, wine, and preserves.
The house itself was a former presbytery or priest's residence, built in the
sixteenth century. In it lived the priests who served the Château of Marigny,
which stood nearby until the French Revolution, when it was demolished.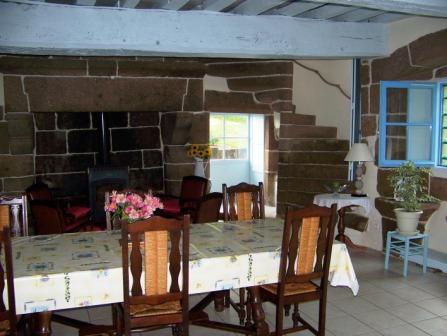 The interior was an unusual mix of old and new elements.
Not far away was the complex of buildings where the farmers lived, as well as their cows.
The flowers were in full bloom, and the couple had planted many beds of them all over.
Not far away was the chapel served by the priests who lived in the house, alongside a former mill pond.
It was a great place!
From the house it was only a few minutes' drive to the city of Fougères. Fougères proved to be
one of our favorite places on the whole trip: very attractive sights but not full of tourists.
Fougères is divided into two parts: the modern upper town, and the medieval lower town.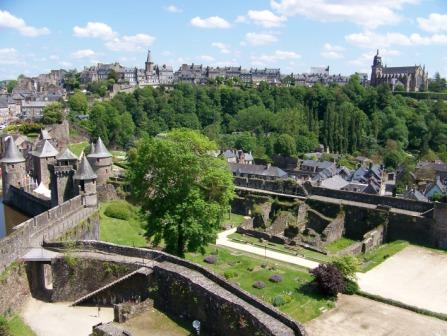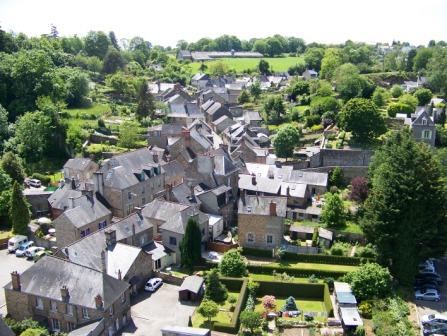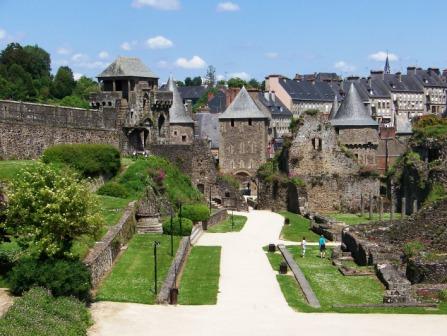 The lower town is dominated by a huge medieval castle, open to the public, which we toured and thoroughly enjoyed.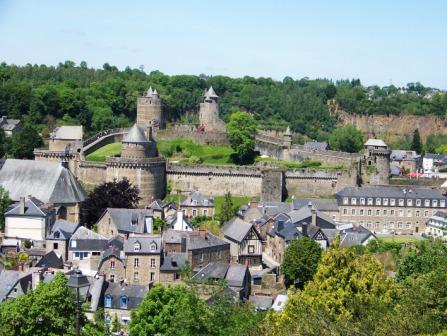 Some parts of the castle were in ruins, but the outer wall and towers have been restored, and we were able to walk along them.
There are a total of thirteen towers, all of different shapes and sizes.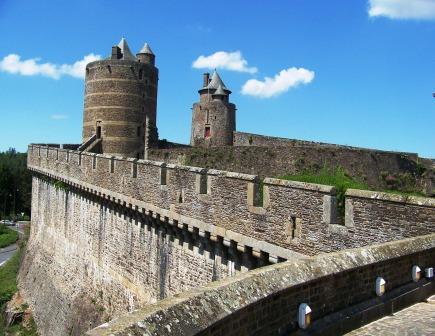 From the walls are great vistas across the castle, over the lower town, and across the valley to the upper town.
A loop of the Nançon River forms a natural moat, and there was a mill built at some point within the castle.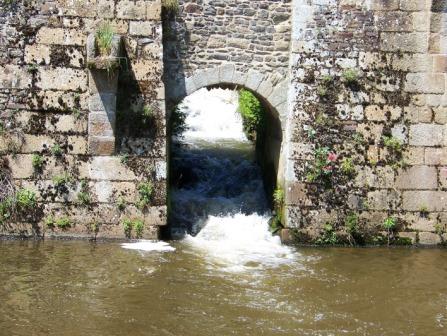 We were so impressed we walked all around the castle after our tour, to see it from different angles.
Click here to see the next page, or close this page to choose your own next page from the map.