The North Coast of Brittany:
Dinan, Dinard, and Dol-de-Bretagne
It was about an hour's drive from the house to the north coast of Brittany, and we spent several days seeing the sights.
One afternoon we visited Dinan, a cute town with a very medieval look.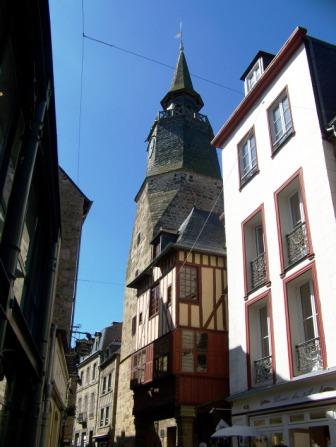 There isn't really anything to do in Dinan except to wander the streets and admire the views.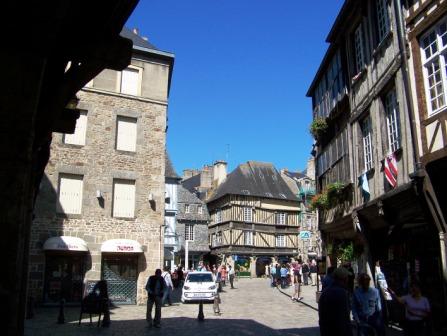 There is a nice square in front of the town's main church.
Houses along the river Rance reflect the town's commercial past.
At the edge of Dinan is a funky art-deco train station.
Dinard (whose name sounds like Dinan) lies right on the coast. It began as a nineteenth-century seaside resort.
Wealthy summer residents built huge mansions overlooking the town's beach and rocky coast.
There isn't much to do in Dinard, either, but a paved walk winds its tranquil way along the coastline.
Across the estuary at the mouth of the Rance River is the city of Saint-Malo, seen from the coastal walk.
A small ferry takes passengers back and forth from Dinard to Saint-Malo.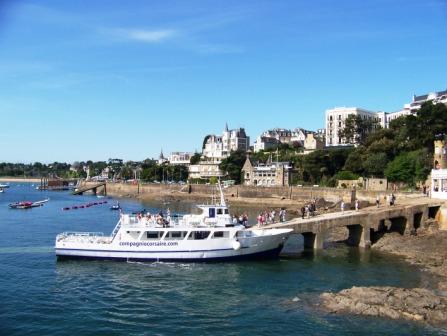 At the center of Dinard, the rocky coast gives way to a large sheltered beach.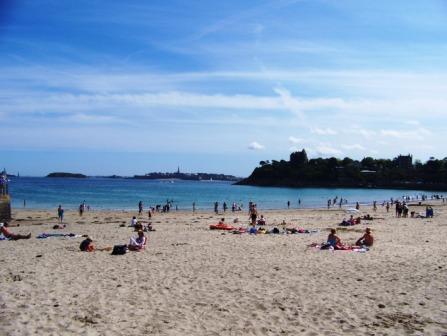 There is also a nineteenth-century casino at the center of town (below left).
Alfred Hitchcock enjoyed visiting Dinard, and there is a modern sculpture honoring him (below right).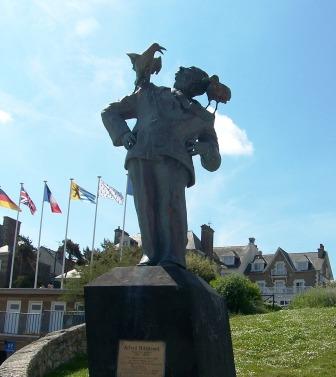 Another sleepy town on the north Breton coast was Dol-de-Bretagne.
Its glory is a large Gothic cathedral, and there was a very interesting
museum next to the cathedral, about its construction.
Otherwise, we wandered a bit through the center of town, admiring its old buildings.
Click here to see the next page, or close this page to choose your own next page from the map.