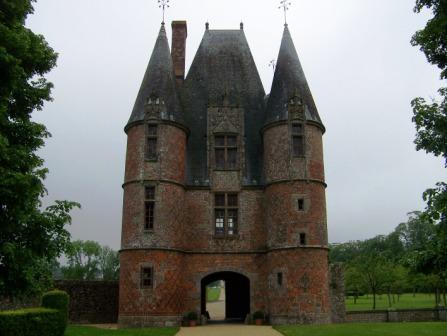 The Interior of Normandy
After our first week in Normandy, we moved on to our second week and second house in Brittany.
We stopped along the way at Falaise, birthplace of William the Conqueror. Like many of the towns of
Normandy, it was heavily bombed during World War Two, so only a few elements of its medieval past remain.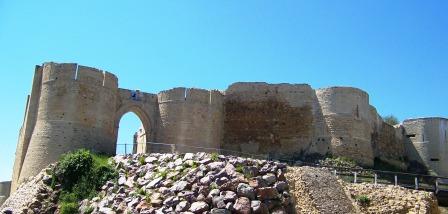 The medieval castle of Falaise has been recently restored. It offers great views of the modern town.
A section of the medieval wall that encircled Falaise survives (below left).
A modern statue honors William the Conqueror (below right).
What is most interesting about Falaise is a tiny museum of automation, where old Parisian department
store window displays from the early twentieth century have been repaired and remounted. They really
were quite wild, since almost all of the figures in them move around in awkwardly crude ways.
One commemorates a dance marathon (below left), in which some of the contestants have
collapsed from exhaustion but still move their legs. The shell (below right) opens and
closes to reveal the doll hidden inside, while the worms behind it slither along.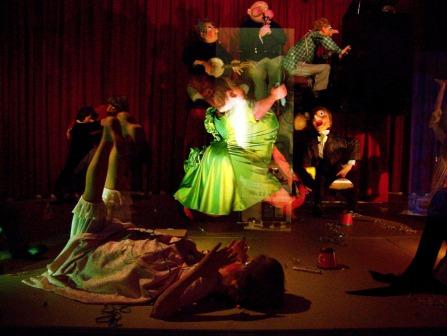 This one (below) recreates an accident in which cyclists in the Tour de France crashed into a herd of pigs!
Also along the border between Normandy and Brittany is the Château de Carrouges. It was begun in the
fourteenth century, and added onto up until the eighteenth century. The sixteenth-century guardhouse
(below left) marks the entrance to the grounds. Beyond it is the château, surrounded still by its moat.
In the interior of the château is a large open courtyard.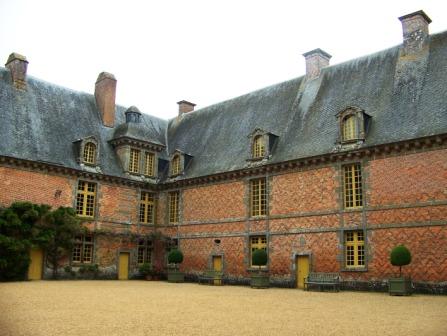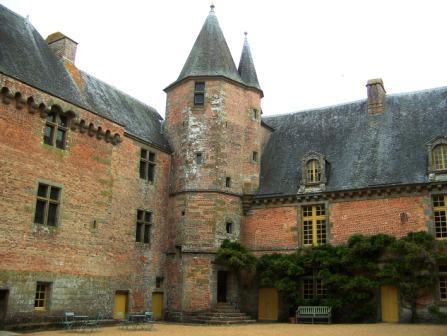 The interior shows mostly the last set of renovations in the eighteenth century.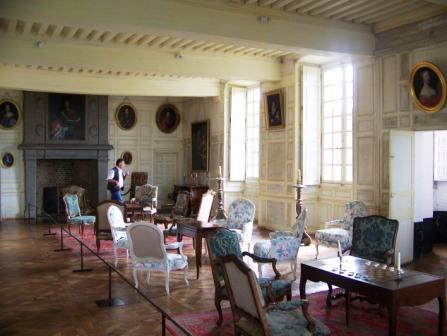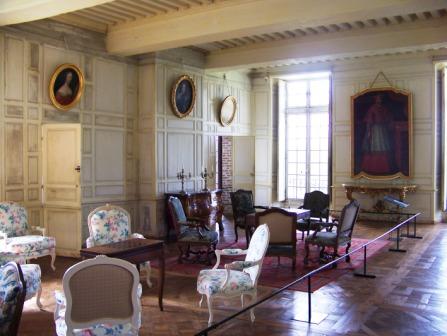 There are some curious features inside: an oddly vaulted ceiling
(below left) and a weirdly twisting stone staircase (below right).
Close by the château is the hot springs resort called Bagnoles-sur-l'Orne.
There wasn't much happening there, but it did show signs of its heyday in the nineteenth century.
There is a large lake, created in the nineteenth century, beside which we had lunch (below left),
and a huge nineteenth-century mansion on a hill, now the town hall (below right).
We stopped only briefly in Domfront to admire this eleventh-century church, Notre-Dame sur l'Eau.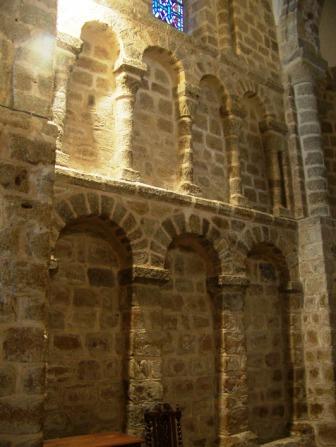 Click here to see the next page, or close this page to choose your own next page from the map.