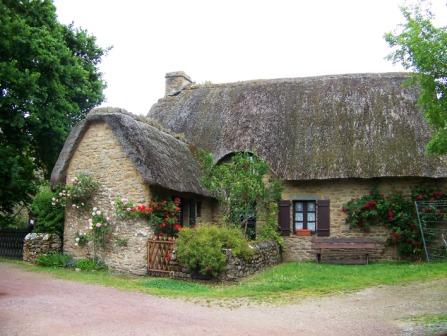 La Grande Brière
La Grande Brière is the name of a large marshy region along the south coast of Brittany, north of the mouth
of the Loire River. Before modern highways it was an isolated region, navigable only on small boats.
The inhabitants of the region lived on small "islands" or high points in the marshes. Now the
region is a major sanctuary for birds and other wildlife as well as a recreational area.
At the north end of La Grande Brière is the gorgeous Château de la Bretesche, built in the fourteenth
century. Since 1965 it has been a luxury hotel, though parts of the castle are privately owned apartments.
One of the "islands" where the inhabitants of La Grande Brière have long lived
is called the Île de Fédrun. You can see the traditional thatched roof of this cottage.
This family of goats grazed on a tiny island in the marsh, alongside their own miniature windmill.
At the south end of La Grande Brière and right at the mouth of the Loire River is the port of Saint-Nazaire. It was built in the nineteenth century by the city of Nantes, upstream, since ocean-going ships could no longer travel inland to its docks.
In 1975 an enormous bridge (above right) was built across the mouth of the Loire
at Saint-Nazaire, still the longest bridge in France at over 11,000 feet long.
One of Saint-Nazaire's most interesting buildings was this huge submarine
base, built during the Nazi occupation of France for German U-Boats.

While many of the villages across La Grande Brière have seen modern development and new houses,
the village of Kerhinet was preserved to demonstrate the traditional look that all the villages once had.
At the western end of La Grande Brière, along the coast, lies the town of Guérande. There, too, medieval walls
still surround the old town. Guérande is known for its production of sea salt, harvested since the Middle Ages.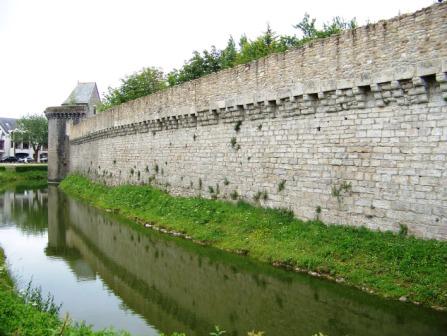 Our last stop of the day was in the village of La Roche-Bernard, at the north end of La Grande Brière.
It was an attractive and fairly sleepy town along the Vilaine River, something of an artists' colony.
Click here to see the next page, or close this page to choose your own next page from the map.