Here is a model of their latest project: a huge mechanical tree 92 feet high and 147 feet wide, stretching out over the Loire River.
A prototype of one section of the tree has been built. It is essentially a hanging garden, a walkway lined with boxes filled with plants.
Tucked away in the branches of the tree will be a number of "rides" in the shapes of creatures, and you will be able to slither
or flap or scuttle across from one branch to another on the backs of these creatures. It is expected to be completed in 2014.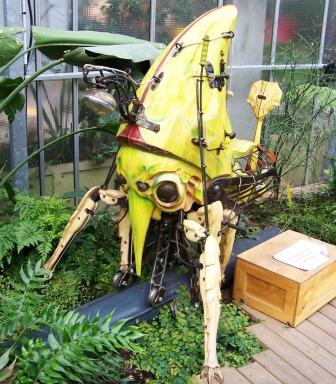 They were just putting the finishing touches to a giant carousel, sadly, scheduled to open about a month
after we were there. The carousel will have three levels, and you will ride around on fish and other
underwater creatures on the lower levels and on birds and a sea monster on the upper level.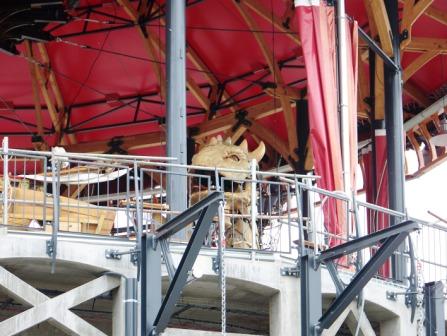 The elephant was the first major project. It carries about thiry people within its body and
atop its back, and its legs walk and its trunk sways and its ears flap as it moves around.
What an incredible place!
The center of Nantes was also very nice--it's a big and bustling city, but with many pedestrian streets in the old town.
At one end of the old town is the castle that was the residence for the medieval dukes of Brittany.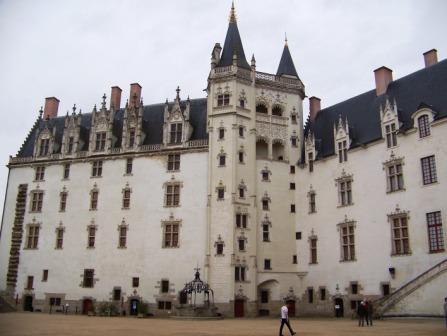 The cathedral of Nantes was begun in 1434 in the Gothic style, but only completed in 1891.
Within the cathedral is the elaborate tomb of the last duke of Brittany, Francis II, and his wife, Margaret of Foix.
Their pillows are supported by angels (above).
At each corner of the tomb are four figures representing the four cardinal virtues:
courage (above left, dressed as a warrior and killing a dragon), justice (above right,
with a sword in one hand and a book showing a balance in the other), temperance
(below left, with a horse's bridle in one hand, a symbol of restraint, and a clock
in the other, symbol of a measured life), and prudence (below right, with a compass
in one hand, for judging the extent of one's actions, and a mirror in the other,
for self-reflection). All of these figures are elegantly carved in white marble.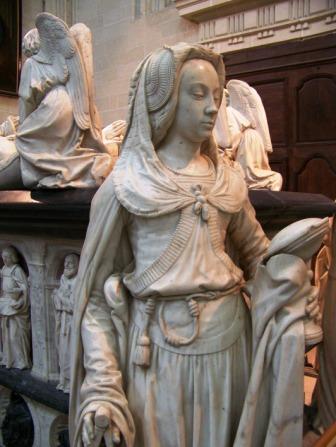 This is the last page. We had a wonderful time in France, and we hope you've enjoyed our photos!