The Dauphiné
Matt's research required us to travel one day to the foothills of the French Alps in the region once known as the Dauphiné. (This region was not traditionally part of France. When it was acquired by the king of France, who purchased it from the Holy Roman Emperors in 1349, it was incorporated into France by having the heir to the French throne rule it as a sort of "practice kingdom" called an apanage before ruling the whole of France. For this reason the heir to the French throne became known as the Dauphin.) The area is still heavily rural with lots of natural beauty, and the Alps provide a dramatic backdrop.
Our first stop that day was at the archives in the industrial city of Valence for the modern district called Drôme, named after the river that snakes its way through the region. From there we headed east, stopping at a little town called Saillans, where there is a church dedicated to Saint Gerald.
The facade of the church is very plain, as you can see, and heavily built in the early modern period, since during the French wars of religion between Catholics and Protestants the church was greatly damaged. Inside is a modern stained-glass image of Saint Gerald. But note that he carries neither the church nor the sword or staff associated with him. Instead, he carries the palm branch, a traditional feature of martyred saints, but this is an error, since Gerald was not a martyr. Two women who head a committee that is trying to raise funds for the ongoing restoration of the church were very hospitable hosts.
Our next stop was at Aspres-sur-Buëch, farther east. It was a
very small town also with a church dedicated to Saint Gerald.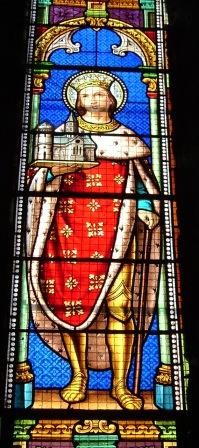 The facade of the church has been mostly rebuilt in modern times, although the interior is Gothic.
A modern stained-glass image of Saint Gerald includes several traditional elements.

Most unusual, however, are the medieval carvings above the main portal on the facade, because they were so crudely done, and look almost like children's drawings (note, for example, the flipper-like feet descending downward from the bodies!). This is a truly unique element. How many more medieval churches had carvings like this one that were later destroyed and replaced when they were judged too inelegant?
The day concluded with a visit to another archives, at Gap in the French district of Hautes-Alpes, and
then a long drive back to Avignon. It was definitely a region we'd like to explore more in a future trip!
Click here to go on to the next page.
Click here to go to the main menu and the map of France.