More of the region of Extremadura
From our house in Don Álvaro we made several excursions across the region of Extremadura.
Look at the color of the soil in the area!
One day we visited Zafra. It is a fairly sleepy town, but does have attractive homes with whitewashed walls on narrow streets,
an old castle (now a parador), and a main square where we had lunch (and heard the news on TV that the king had abdicated).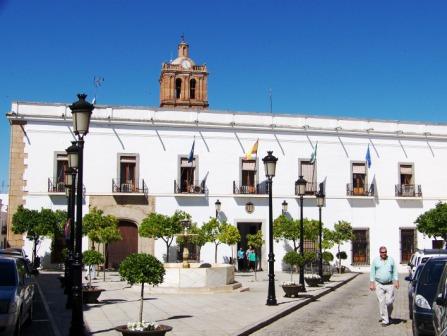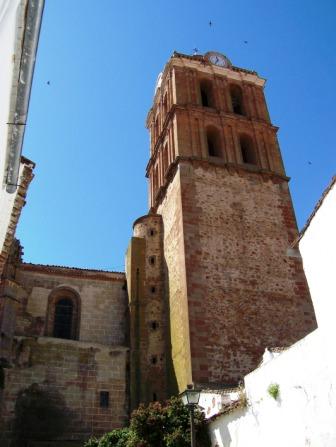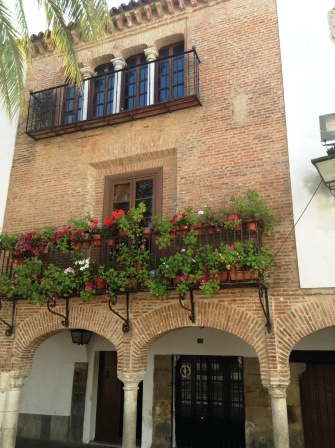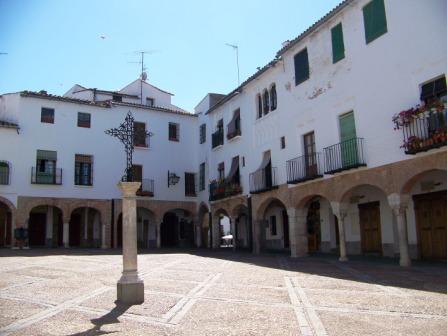 Another day's excursion took us to Trujillo. The lower town, spreading out from a huge square, is not much to look at.
But the upper town, with its castle, old buildings, and expansive views over the arid countryside, was very appealing.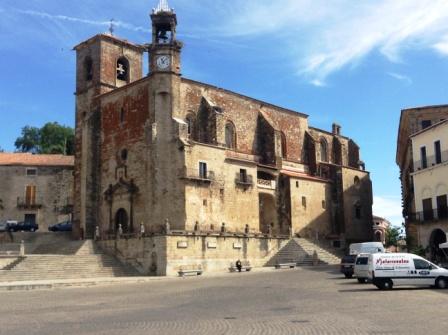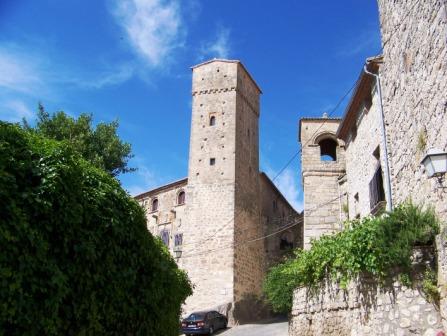 The castle was built by the Arabs in the ninth century, but taken with the rest of the town by Christian forces in 1232.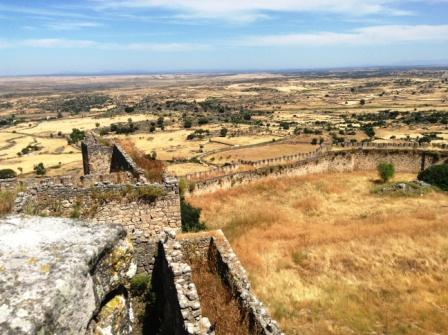 Above the entrance to the castle (below middle) was a chapel with a rotating statue of the Virgin Mary in the window!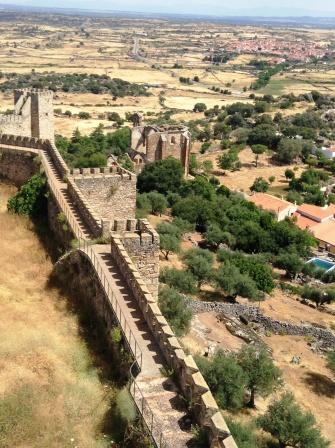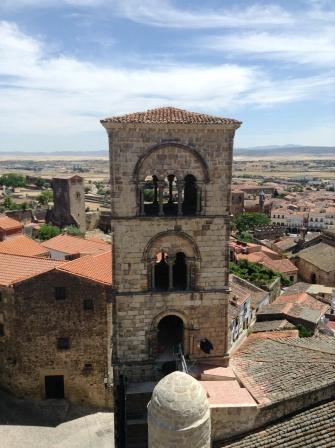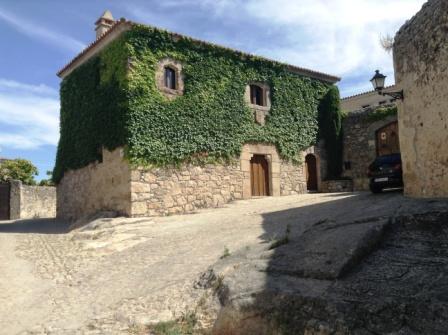 We toured the former home of Francisco Pizarro, the conquistador who conquered Peru, who was born in Trujillo.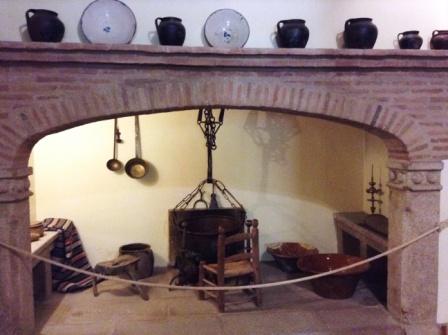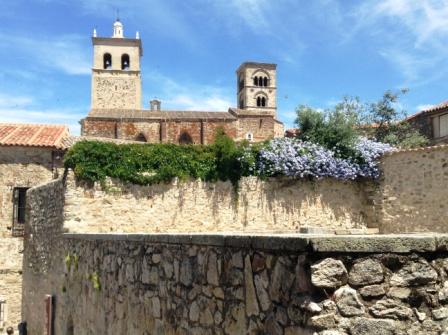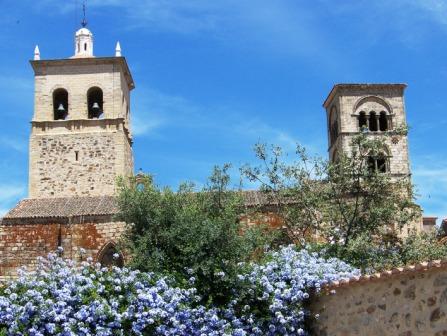 On a third day, we visited Cáceres.
But first we stopped at the Museo Vostell Malpartida, a sheep-sheering factory from the eighteenth century bought in the 1970s
by a German surrealist artist named Wolf Vostell, famed for his use of cars and televisions in his sculpture. The building was
interesting enough: a cluster of large barns built on the edge of a reservoir, but the art installations there were unbelievable!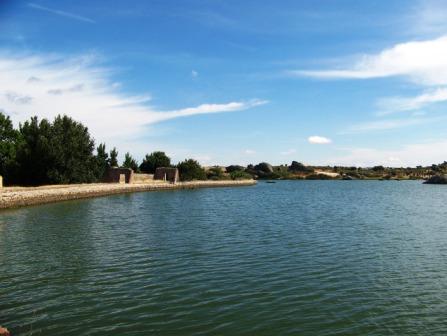 The car below had many moving parts, including rakes that swept plates stretched out on the ground and flailing whips.
In another part of the museum, playing notes on a piano turned on a vacuum, a fan, a radio, and a refrigerator light.
The area was also a wildlife conservation area.
Cáceres was a beautiful town with narrow cobblestone streets and houses built of stone with tile roofs.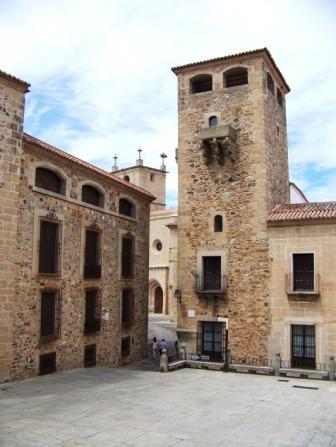 A statue of San Pedro de Alcántara by the sculptor Enrique Pérez Comendador, whose work we had seen in a museum in Hervas.
One of the most unusual sights was this Moorish underground cistern with beautiful horseshoe arches.
Not a monument to the Ku Klux Klan (below middle) but to the Catholic confraternities that were once popular across Spain.
There was an interesting museum in Cáceres, housed in a former convent.
Among the objects on display was this section of renaissance tile--the same pattern as in our kitchen!
We had lunch in this nice square just outside the old town. Notice the beautiful tile work on these buildings, too!
As we left Cáceres to head back to Mérida, we passed by this fifteenth-century castle, called Castillo de las Herguijuelas, and couldn't resist stopping,
although it seemed to be in private hands and wasn't open to visitors (though its website says that you can rent it for weddings and other banquets).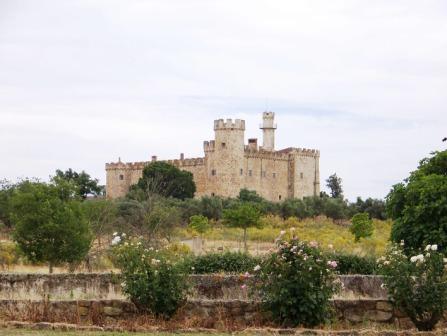 And that was, more or less, our trip! We really enjoyed these regions and what we saw (and what we ate, since we had great meals)!
We drove back to Madrid on our last day, making a brief stop in Talavera de la Reina. After a frustrating time finding our airport hotel
and another equally frustrating time finding the closest metro stop, we dropped our friend Don off in downtown Madrid, had lunch,
walked around for a few hours, then returned to our airport hotel. The next morning we flew out and came home to San Diego.
Madrid's airport was designed by British architect Richard Rogers.
We hope you've enjoyed our photos!