Segovia and its region
We met up with our friend Don at the Madrid airport and drove out to our first house, a great place in a tiny hamlet called Mata de Quintanar, just outside of Segovia.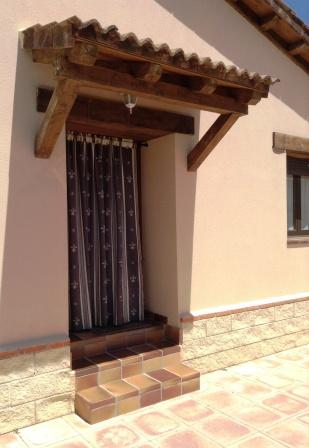 Then we drove into Segovia, and after a delicious lunch of roasted suckling pig, spent the afternoon admiring its castle, cathedral, and Roman aqueduct.
The aqueduct was built in the first century CE, stretches out over 2400 feet in length, and reaches a maximum height of 95 feet.
The cathedral was built in the sixteenth and seventeenth centuries, but still in the medieval Gothic style.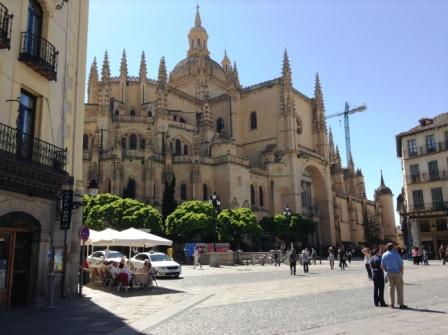 The castle, called the Alcázar, only dates from the nineteenth century, though also built to look medieval.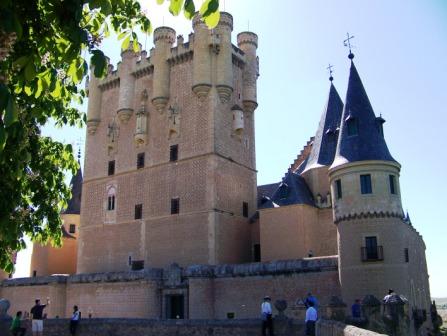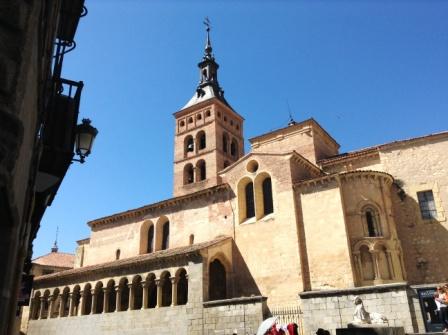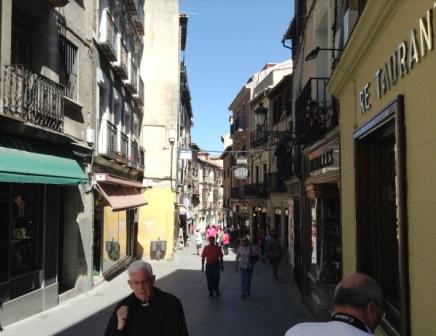 Segovia has narrow and twisting but lively streets and looks out from its hilltop location onto the surrounding hills.
The next day we drove into the countryside northeast of Segovia. Note the rural Spanish version of a traffic jam, below left,
and a ubiquitous sight in rural Spain: clusters of storks' nests on any tall structure (here, below right, a church steeple).
Our first stop was at Turégano, with its fifteenth-century castle overlooking the town, where we shopped at its weekly farmers' market.
Our next stop was at the picturesque town of Pedraza de la Sierra. It also has a medieval castle, partly restored in the early twentieth century
by the Basque artist Ignacio Zuloaga, and there is a small museum of his work there.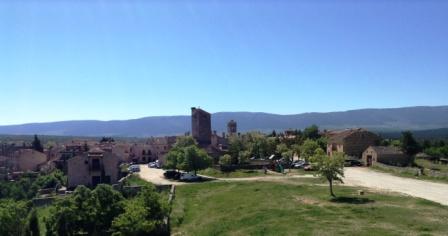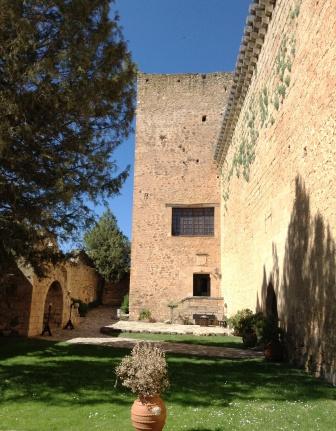 We had lunch in the nearby town of Sepúlveda, also delightful with its twisting streets and eleventh-century Romanesque church.
We dined on roasted suckling lamb that day--even more delicious than the roasted suckling pig!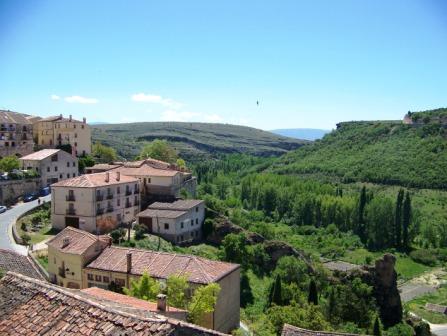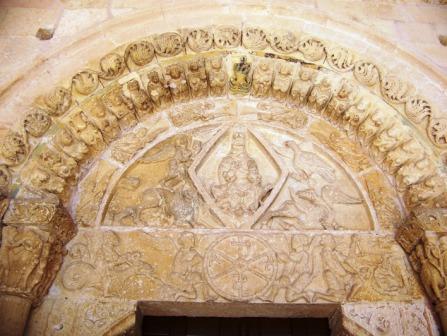 Sepúlveda sits on the Duraton River, and a few miles outside of town is a wide gorge in the winding river, with the remains of a medieval monastery perched on a cliff high above.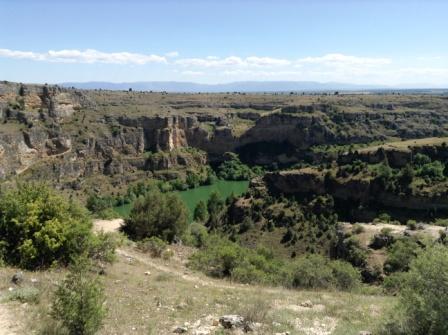 We spent two nights near Segovia, then headed northwest toward León. Along the way we stopped at Coca,
famous for its fifteenth-century castle built of pink stone in the Mudéjar (imitation of Moorish) style.
The castle sits majestically, still encompassed by its (now dry) moat.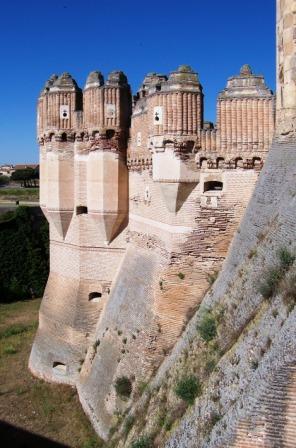 There isn't much inside, but the castle does offer impressive views of the surrounding countryside.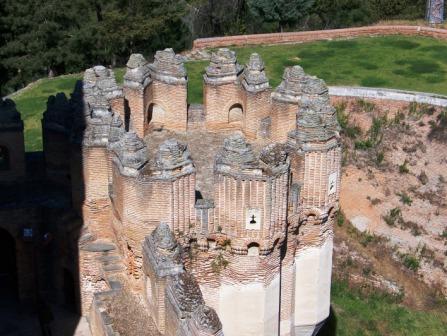 We stopped for lunch in the city of Palencia, and walked around its main square and through its Gothic cathedral.
Click on the bull to continue onto the next page.