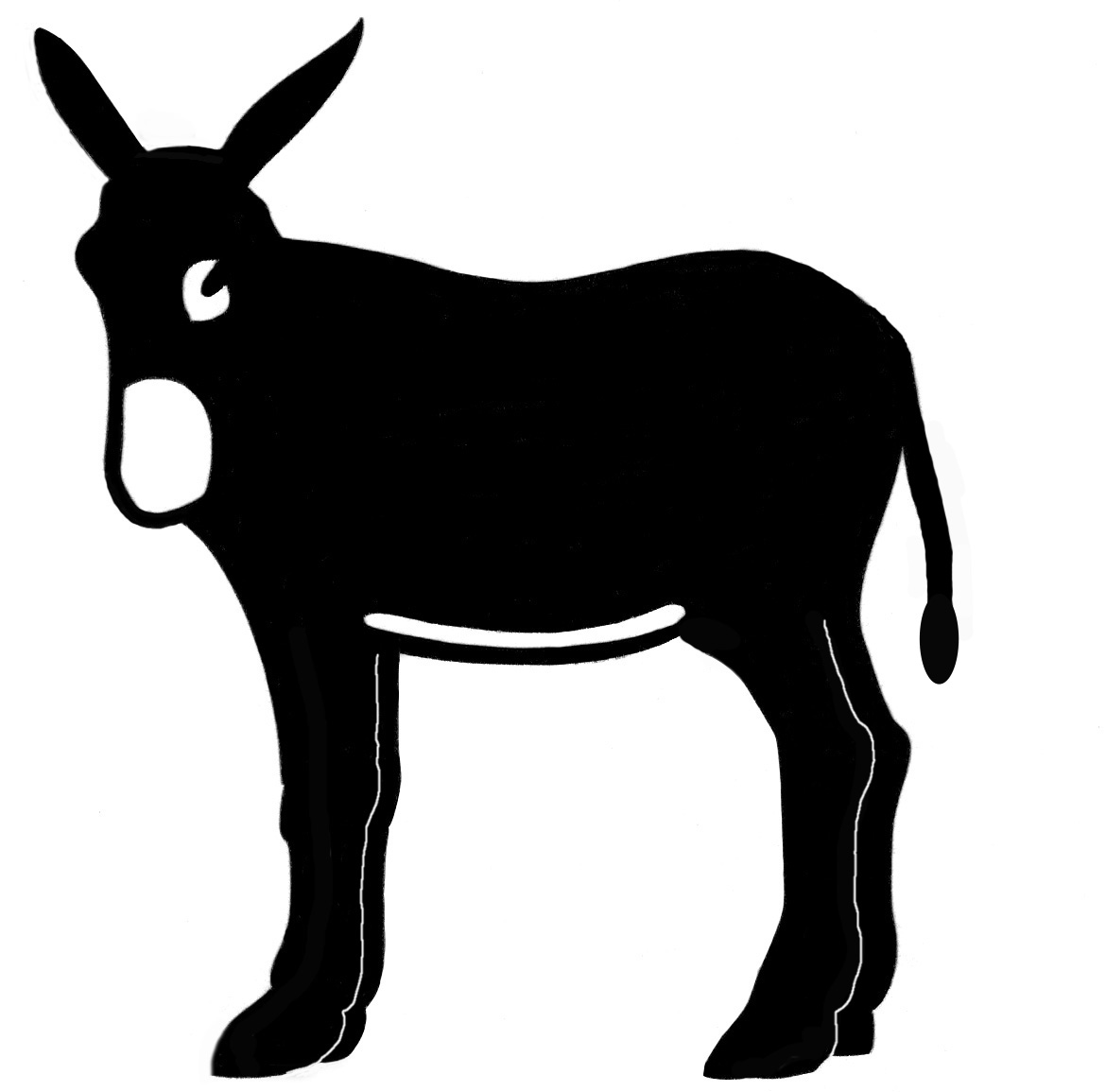 TOSSA DE MAR
Tossa de Mar is a cute seaside town. It is fairly touristy, though, so we were glad to have been there early in the summer season.
One of the main reasons we visited Tossa de Mar was to see the church dedicated to Saint Gerald there.
The church is now closed, but Matt made arrangements with the local archivist for all of us to visit it.
It dates only from the nineteenth century, but replaced a medieval church at the same location.
It was built at one end of the courtyard inside a mansion also built in the nineteenth century.
In that regard, the approach to the church vaguely resembles that of the shrine of Montserrat,
the greatest of Catalan religious shrines (and at Montserrat, a monastery surrounds the church).
The mansion here was later turned into a hotel, and is now closed and in pretty rough shape.
In Catalonia, as in the different regions of France, Saint Gerald was misremembered over the centuries.
So here he is depicted in the black robes of a Benedictine monk and holding the crozier (staff) and miter (cap)
of a bishop, although he was neither a monk nor a bishop. In local legend it is said that Gerald visited Tossa de Mar
(although that likely never happened) and, while here, performed a miracle with water in a large jar (that is shown as his feet).
After spending the morning visiting the church and the local archives,
we devoted the afternoon to walking around and enjoying Tossa de Mar.
The ancient walls still surround the old town. Inside these walls are a nearly endless network of picturesque streets and buildings.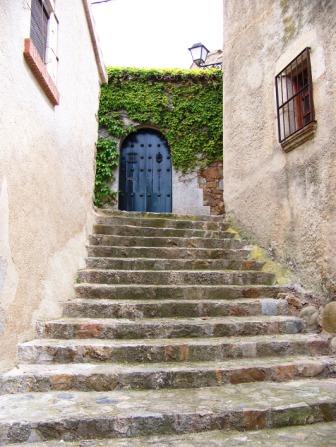 The ruins of a medieval church forms the high point of the old town.
From the height of the old town you can look out over the Mediterranean Sea.
This section of the coast is called the Costa Brava or "Rugged Coast."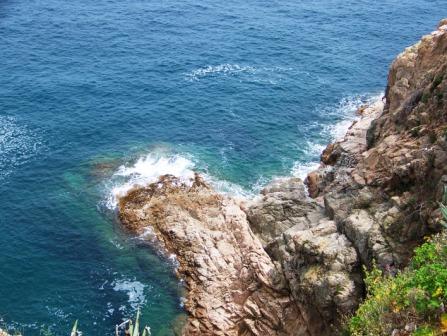 Or you can look to the beach, already busy with tourists.
The countless restaurants, often on pleasant courtyards, gives a good sense of how many people visit Tossa de Mar during the summer.
Beyond the old town stretches new developments: hotels, apartments--seaside sprawl.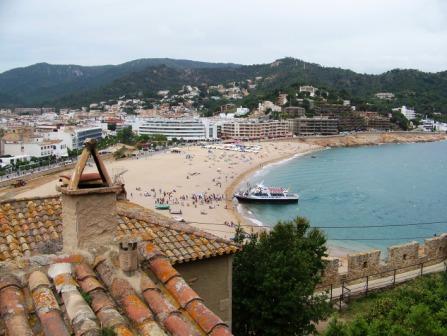 It was a terrific town, but one probably not best visited during the summer.
Close this page to see our photos from other areas of Catalonia.
Or click here to go on to our next day's adventures in the villages in the hills of inland north Catalonia.