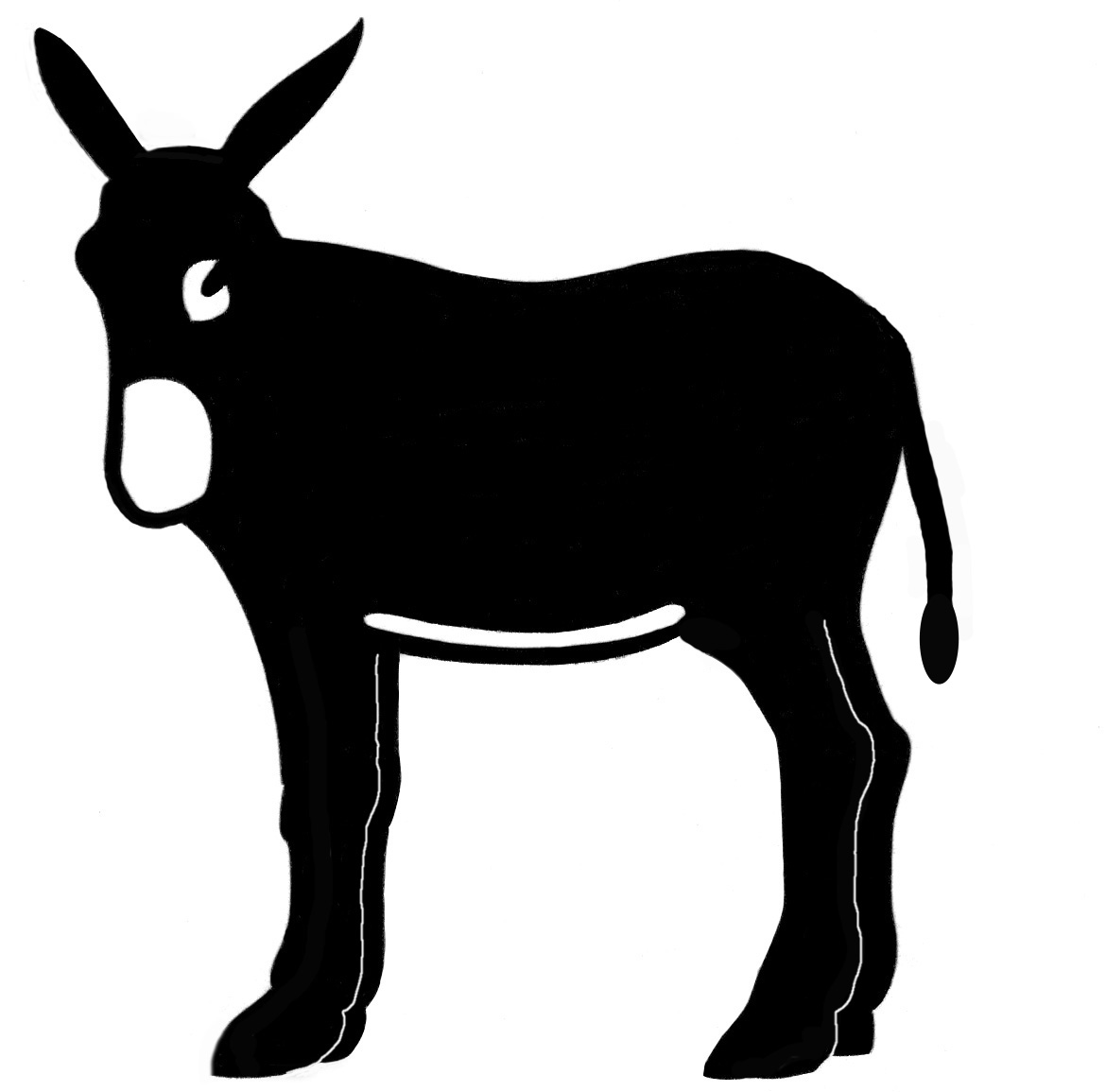 MONESTIR DE PEDRALBES
and MONT TIBIDABO
At some distance from central Barcelona are additional sights, less visited by tourists.
Among these sights is the Palau Reial de Pedrables (Royal Palace of Pedralbes), built by Eusebi Güell
(who developed Parc Güell) and given to the royal family in 1918, who used it as their Barcelona residence.
In front of the main entry is a large statue of Queen Isabel II , holding up her son, the future King Alfonso XII, born in 1856 after more than a decade of her marriage to her first cousin. Having a son was particularly important for Isabel, since many considered her as unlawfully ruling because she was a woman--including her uncle, who claimed that he should have been made king when Isabel's father died without sons. The political pressure continued, however, and in 1868 Isabel was forced into exile. In 1870 she abdicated in favor of the son she holds here.
The famous Barcelona architect Antoni Gaudí designed the gatehouses for the palace grounds, now a park.
Not far from the palace is the medieval Monestir de Pedralbes (Monastery of Pedralbes, named for the light color of the stones used in its construction).
It was built in the fourteenth century as a convent for nuns, founded by Queen Elisenda, the widow of King Jaume II of Aragon, who is buried there.
The convent has a beautiful cloister, unusual in being three stories in height, and elegant with its slender Catalan Gothic columns.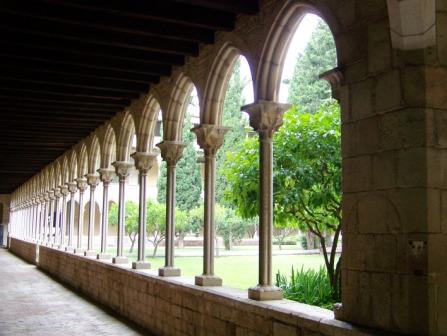 The convent remained in use until the mid-twentieth century, and is now a museum showcasing monastic life.
The neighborhood around Pedralbes includes a number of impressive mansions.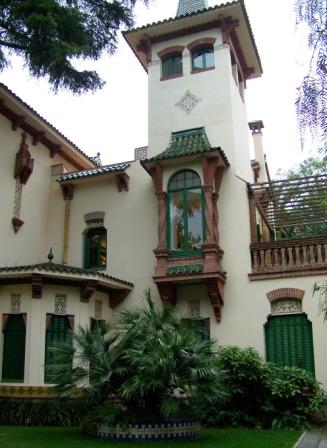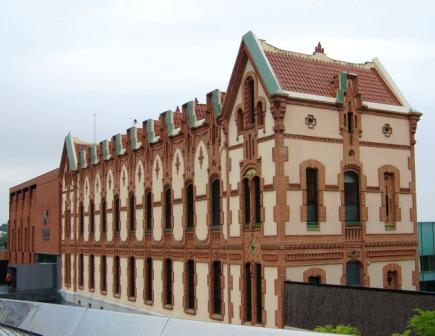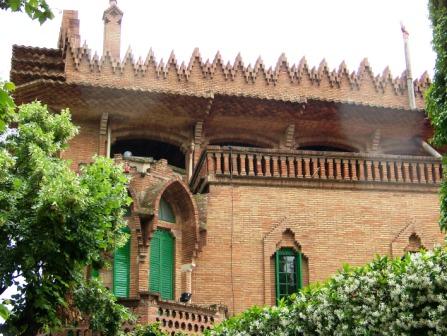 There is even yet another building designed by Gaudí.
It is called Bellesguard (Beautiful View) and was built between 1900 and 1909.
It looks something like a medieval castle.
There was even the faded glory of a former luxury hotel, now closed and
delapidated, but with an incredible tower belvedere and stone carvings.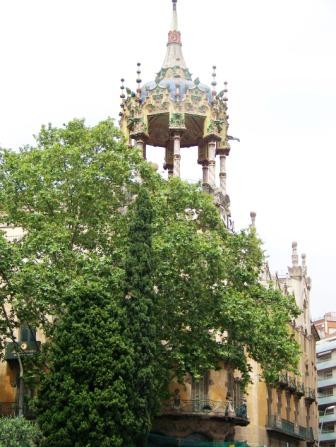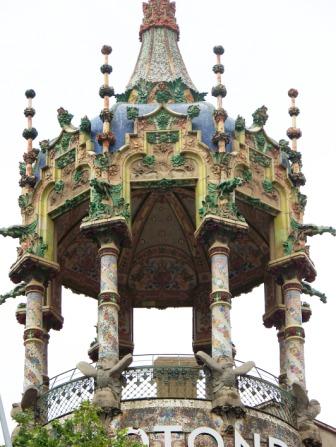 Another of the sights on the northern outskirts of Barcelona is Mont Tibidabo.
It looks out over the whole of Barcelona from a height of over 500 meters (almost 1700 feet)
--and crowning the top of the mountain is a church, the Temple Expiatori de Sagrat Cor
(Expiatory Temple of the Sacred Heart) begun in 1915 in a neo-Gothic style.
Of course, Saint George, patron saint of Catalonia, finds his place on the facade of the church.
The interior is an interesting blend of Romanesque and Byzantine revival, with hanging stained-glass lamps and painted murals.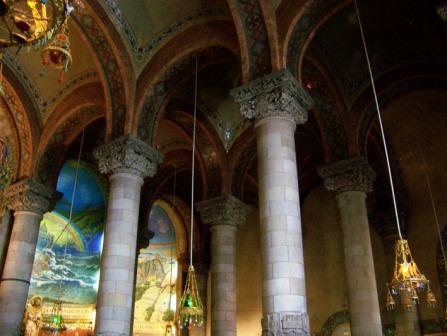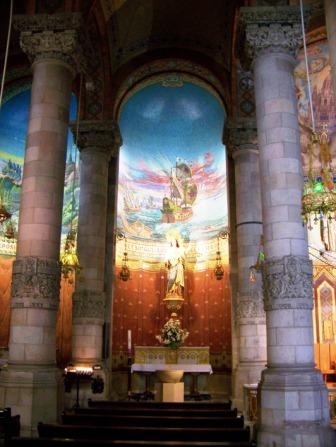 The views from the top of the mountain are spectacular, indeed: over the whole of Barcelona.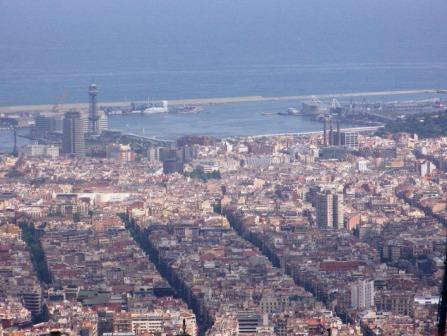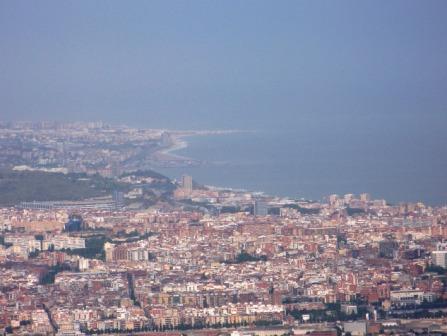 Even the funicular ride up to the top was interesing.
Close this page to see our photos of the other neighborhoods of Barcelona.