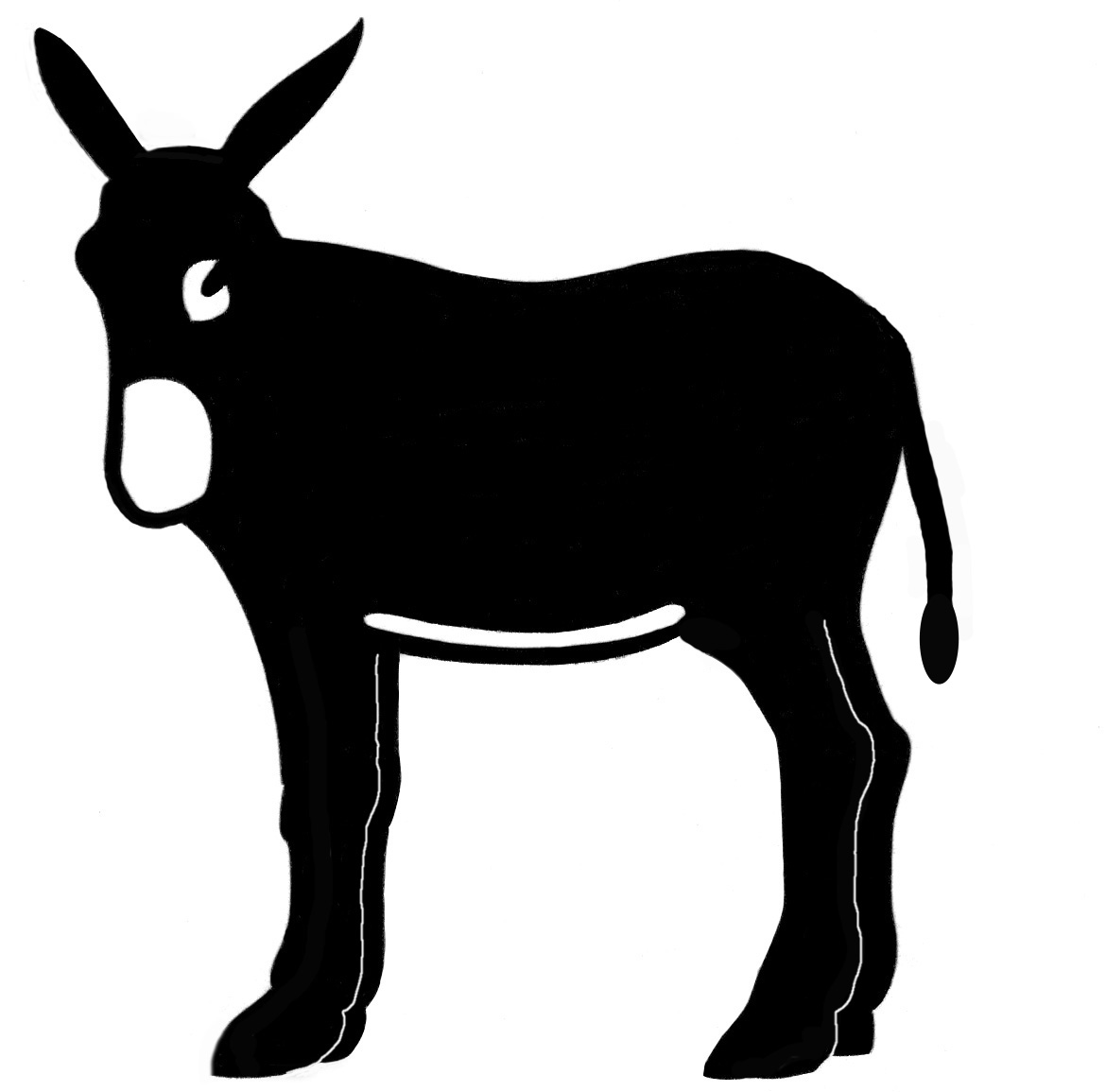 MONTJUIC
Montjuic is a high hill to the west of old Barcelona. It is uncertain whether its name derives from "Mount of Jove" or "Mount of the Jews."
Because it was undeveloped until recently, it was used for exhibition grounds and for the Olympic sites, and is mostly now museums.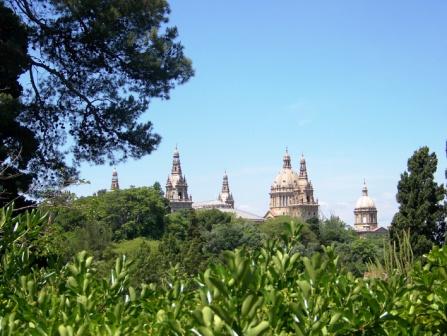 On the hilltop are the spires of the Museu Nacional d'Art de Catalunya.

The Esadi Olimpic (Olympic Stadium) was built for the 1936 Olympic Games.
Even though Berlin actually hosted the official Olympic Games in that year, Barcelona had competed for them. In protest of its loss and unwilling to participate in the games hosted by the Nazis, Barcelona decided to go ahead with its own "People's Olympiad." Unfortunately, it had to be cancelled because of the outbreak of the Spanish Civil War. The arena finally hosted Olympic Games in 1992.
Also built for the 1992 Olympic Games were a range of other interesting buildings--including this
communications tower designed by architect Santiago Calatrava from which the games were broadcast.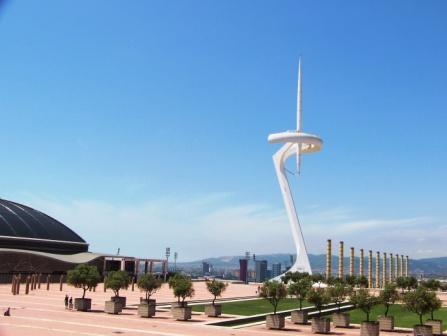 From the top of Montjuic you can look farther west to the new highrise developments in Barcelona.
Another interesting site on the hill is the Poble Espanyol (Spanish Town), a collection of replicas of
typical houses and streets from all the regions of Spain, built for an International Exhibition in 1929.
As you wander from place to place you can imagine yourself in Galicia or Andalusia or La Mancha.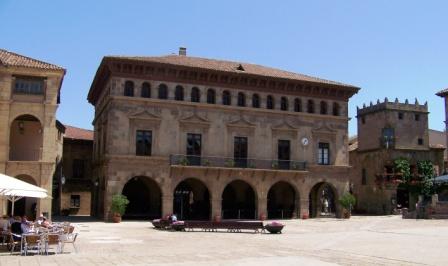 At the highest point on the hill is the Museu Nacional d'Art de Catalunya (National Museum of Catalonian Art), housed in a building constructed for the 1929 International Exhibition.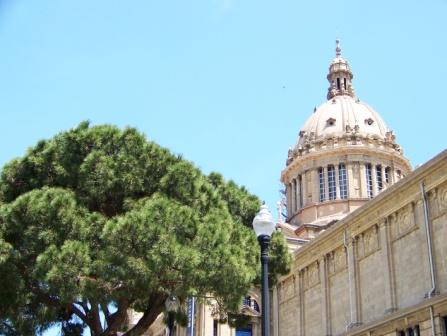 From the front steps of the building you can look down across the plazas and towers of Barcelona.
(In this photo you can even see the rounded roof of the former bullfighting arena, now being redeveloped as a shopping center. Because Franco promoted bullfighting as a national sport and intended it to homogenize Spanish culture, the Catalans hate it and see it not only as cruel to animals but also as a symbol of Franco's cultural oppression.)
The interior of the museum is magnificent, and at its center is a huge dome painted with murals.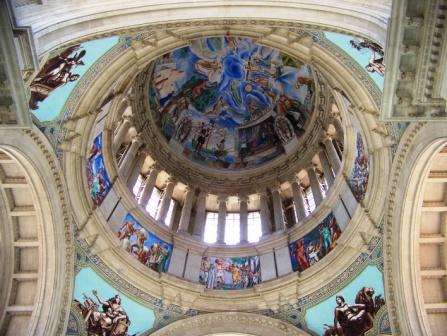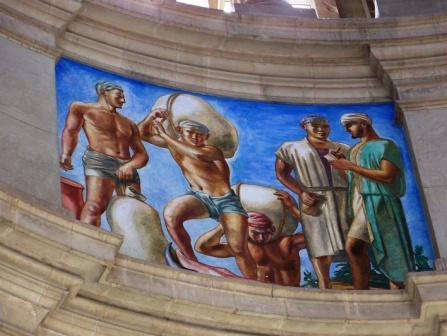 Equally impressive is the enormous oval exhibition hall in neo-classical style, brightly painted.
The collection of art in the museum is astounding, and you can take photos without flash. Here are a few examples of what we saw:

fragments of a Roman mosaic depicting a chariot race, a gothic tomb showing two men buried together,

an art-nouveau era fireplace, an El Greco painting of two apostles,

three art-nouveau hanging lamps in metal and stained-glass, two in Byzantine design and the third with butterfly wings.
The museum is known especially for its collection of art from the Romanesque era, that is, eleventh and twelfth centuries A.D., taken from churches in the region.
This one was particularly interesting, depicting torments--maybe of martyrs, maybe of those in hell (shown in details, left and right).
This one seems to depict the devil trying to steal the soul of a man (obviously a Catalan, from his blanket) on his deathbed.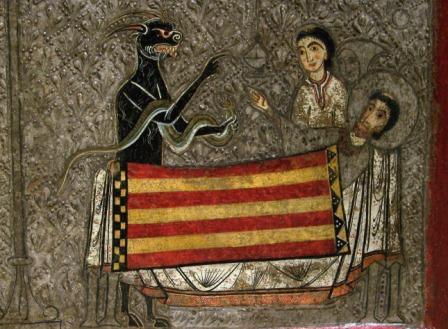 Other interesting elements from art of the Gothic era (thirteenth to fifteenth centuries A.D.):
Saint Dominic instructing heretics to burn their books, and a woman identified as a "diabolesa" or "she-devil."
Still other curious images: a man with very pointy shoes, Saint Lawrence being grilled to death, and the Last Supper with an odd main dish (rabbit? chicken? cat?).
Finally, a demon escapes from a woman's mouth during her prayers.
Close this page to see our photos from another neighborhood in Barcelona.