Ronda, Zahara de la Sierra, and Antequera
To the east of Sevilla are the famous "white towns" of Andalucía, so-called because of their whitewashed houses. Most are on hilltops that could be easily defended, since from the middle of the thirteenth century to the end of the fifteenth century this region formed the shifting border between Muslim and Christian Spain. There are dozens; we visited three of them, Ronda, Zahara de la Sierra, and Antequera.

Ronda's setting is unique--its old town is high atop a steep rocky outcrop bisected by its river. Nowadays a bridge unites the two halves, but for most of its history, you could only get from one side to the other by descending the cliff and climbing back up the other side.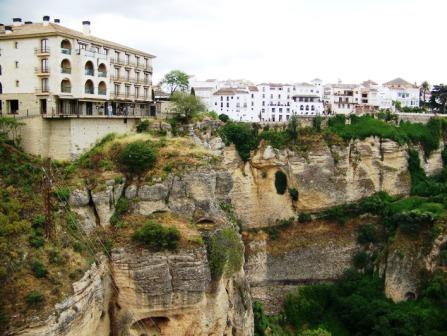 The bridge (middle) with the views to either side (left and right).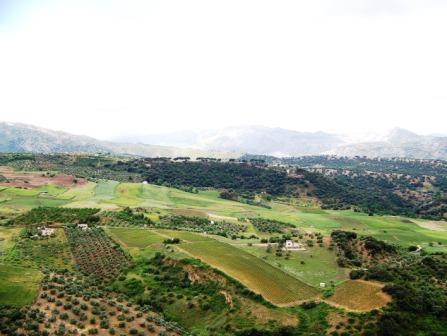 From the town's edges there are beautiful views over the valleys beyond.

A set of stairs was cut long ago inside the cliff so that the town's inhabitants
could descend to the river and get water even if there town were under attack.
Those stairs are still there and we climbed down them and back up.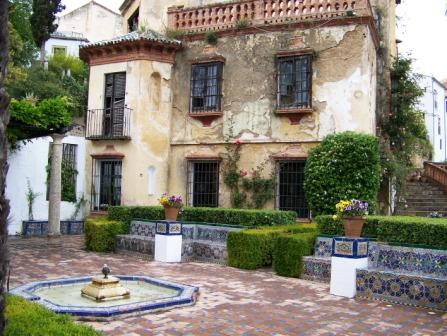 One of the fancier homes in the town is now open to the public together with its gardens.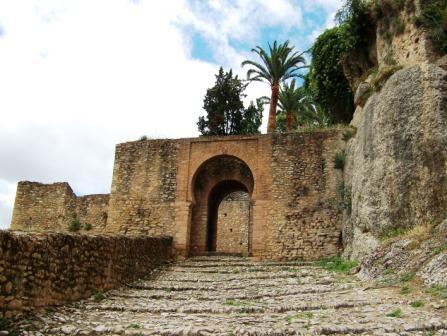 One of the town gates from the Moorish period.
At the edge of the old town of Ronda is a former bath house. Like the Romans, the Moors in Spain built public
bathing facilities in each town. Visitors to these baths could bath in cool or warm baths, sit in steam rooms,
or get massages. They could meet friends and exchange news or gossip. Most important, in a time before
running water was available in homes, the baths were a place where they could get cleaned up.

The entrance to the baths.

The interior of the baths. Notice the openings for light in the ceiling.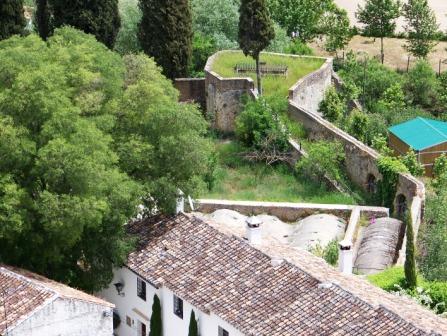 Water to supply the baths was pulled up from the river by a waterwheel turned around by a donkey
(situated on the grassy area atop the walls in this photo) and then sent down the channel
(along the top of the wall on the righthand of the photo) into the bath house
(toward the front of the photo, behind the modern house).
The other white town we visited was Zahara de la Sierra.
It is built into the side of this hill, next to a modern reservoir.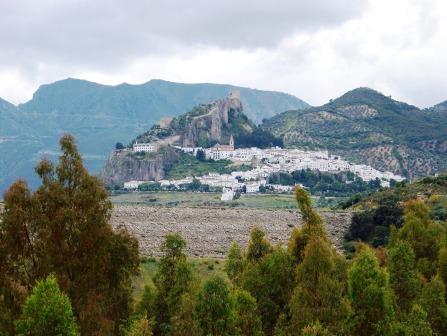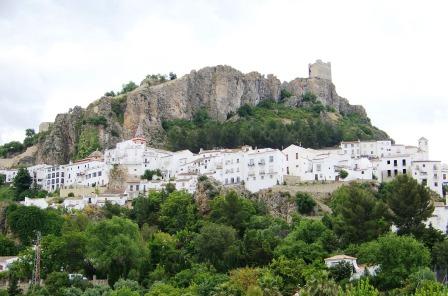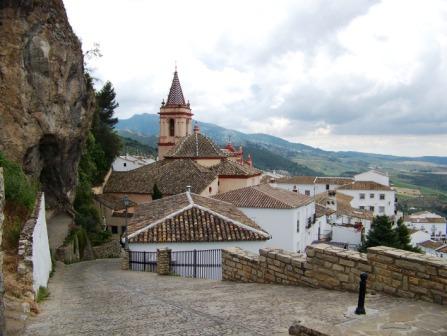 The town is not much more than a few streets wide, wrapped around the hill.
Later, on our way from Sevilla to Granada, we stopped for lunch in another white town, Antequera.

Overlooking Antequera and its castle.
Near Antequera is a natural marvel--called El Torcal de Antequera--an expanse of wind-shaped hoodoos and scattered boulders.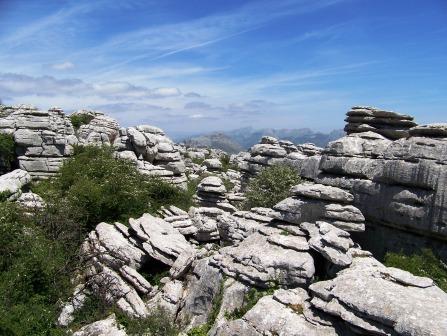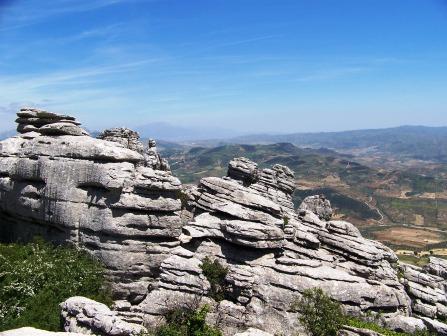 Close this page or click here to go to the next page.