Elche and the Isla Tabarca
From Granada we drove northeast toward Valencia. It was a long drive, so we broke it up
by spending one night about halfway. That was the region of Elche and the Isla Tabarca.

Our first detour was through this village of Guadix. It is a so-called "troglodyte" village,
meaning that most of the homes are carved into the sides of the hills. In some part of the village
all that can be seen of the homes are the doors, windows, and chimneys--the rest is hillside.

The Isla Tabarca is located about a half-hour ferry ride from the Spanish coast. Since the coast
is now all very overdeveloped with tourism, we thought it would be fun to stay instead on
the island--especially since the island is entirely a pedestrian one, so no vehicles are permitted.

The island is quiet--but it was hot and dusty when we were there. It has no natural source of water, so all water must
be brought to the island. It is shaped like a figure eight, and only half is populated--the other half is a bird sanctuary.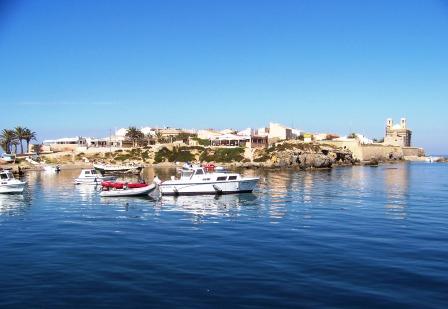 We had a terrific paella dinner at an open-air restaurant, sitting next to a large--and
entertaining!--group of young people there for a combined bachelor and bachelorette party.
Back on the mainland the next day, we stopped in Elche, also called Elx in the Catalan language of northeastern Spain. It is said to be home to the world's largest date palm grove--over three hundred thousand trees, the first of which were planted thousands of years ago by the Phoenicians, who, like the ancient Greeks, established trading posts on the coasts of what is now Spain.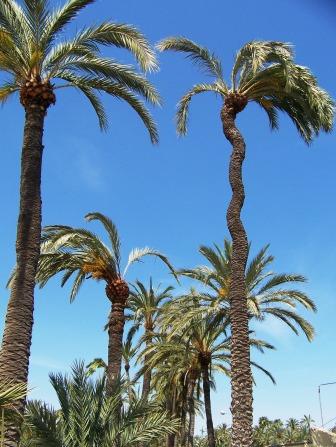 This was an unusually shaped palm tree!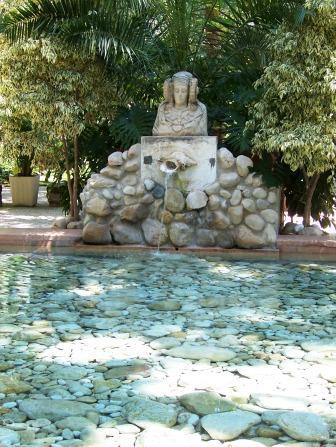 This is a replica of the "Lady of Elche," a seven-thousand-year-old statue found here.

We stopped for a brief tour of a botanical garden known as the Priest's Garden
because it had been started as a gardening hobby by the local parish priest.

The Priest's Garden includes this rare, eight-branched
palm tree (now supported by metal braces so it won't collapse,
but actually naturally formed from one palm tree).
Close this page or click here to go to the next page.