Aranjuez
Our first stop, after arriving at the Madrid airport, was Aranjuez. It was the summer palace for the Bourbon
kings of Spain (a younger branch of the French royal family, and whose descendant, Juan Carlos I, rules Spain).
It was intended as a "mini-Versailles" perhaps to show their French royal cousins that they could live in overly
ostentatious luxury, too. We didn't tour the buildings, but wandered around the gardens, now a public park,
as an opportunity to stretch our legs and enjoy the sunshine (the best cure, they say, for jet lag).

This part of the palace, that once housed the royal courtiers seeking to find favor with the king, is now apartment buildings.

The River Tagus flows between the palace and its gardens, so there are lots of bridges.

The gardens still have some of their original sculpture.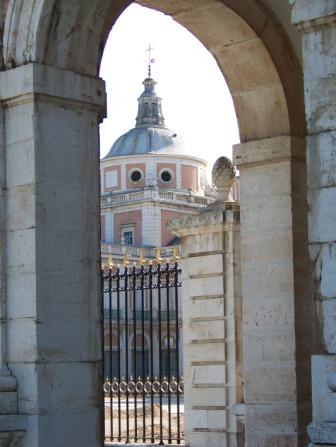 We continued southward, stopping again for a walk around Valdepeñas where, since regional elections
were soon to take place, a supporter of one of the political parties gave us each a half-bottle of wine
with the party's slogan on the label. (Why don't we have that kind of political campaigning here?)

The cathedral of Valdepeñas.
Still farther south (we drove about three hours south from Madrid) we reached the Desfiladero de Despeñaperros
(The Gorge of the Overthrown Dogs), a pass through the mountain range that separates the southernmost part of
Spain from the rest. The "dogs" in question were the Moors, who ruled in the south longer than in the rest of Spain.
The Moors called the whole of Spain El-Andalus, and Andalucía is still the name for the southernmost region.
Close this page or click here to go to the next page.