The West Coast: Trapani, Erice, and Marsala
Two of the days during our week in Balestrate we drove further down the west coast of Sicily.
One of our stops was at Trapani, a city founded by the Elymians, one of the three native peoples of ancient Sicily, who traded here with the ancient Phoenicians.
(The Elymians lived in the western third of the island, the Sicani in the middle third, and the Siculi--from which the name of the island is derived--in the eastern third.)
Trapani has a long peninsula that juts out into the sea.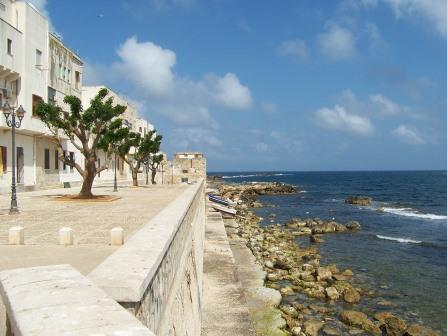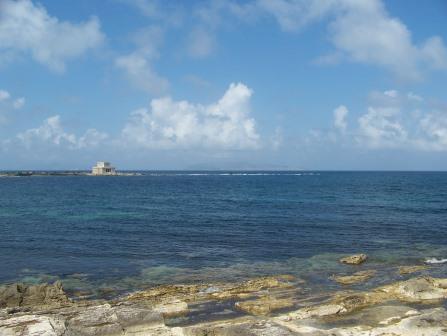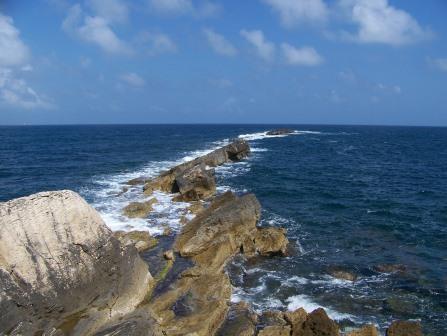 From the end of the city you can see Favignana and Levanzo, two of many small islands that lie off the coast of Sicily.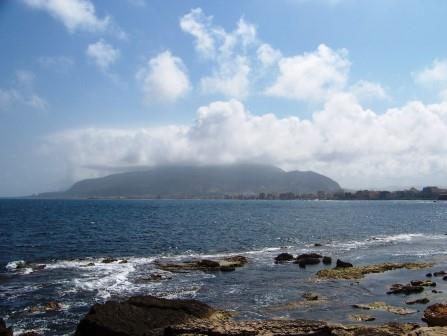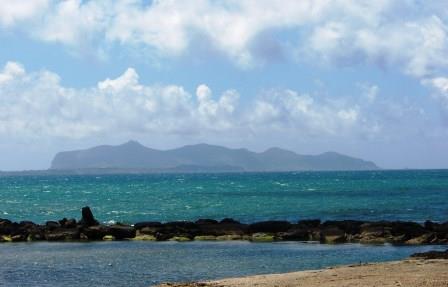 We strolled through the old town of Trapani, along a nice pedestrian street lined with attractive buildings.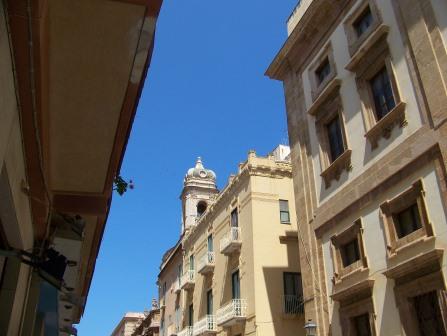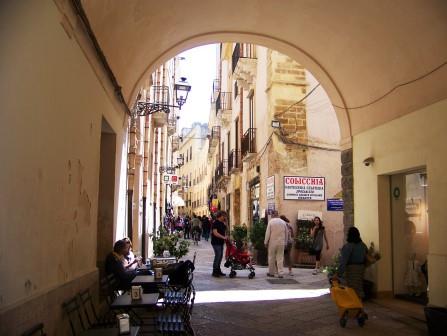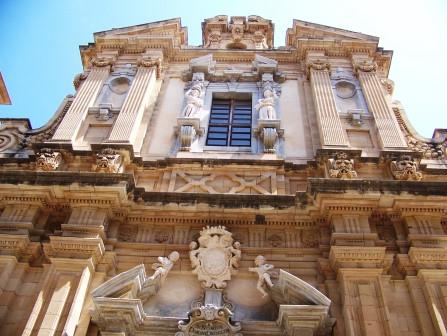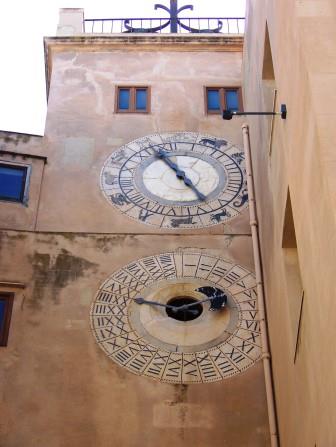 Another of our stops was at Mozia. It is an island not far offshore where a Phoenician colony was founded in the eighth century BCE.
Between the island and the mainland of Sicily is a shallow lagoon where sea salt is produced. Windmills ran Archimedes screws
that lifted the salt water between the flats, either introducting new salt water or draining them to allow the water to evaporate.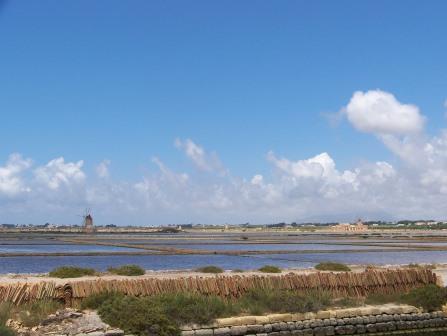 A third stop on the west coast was at Marsala, a town famous for its sweet wines.
Some vestiges remain of ancient Marsala (its modern name actually comes from the Arab period and means "God's harbor" in Arabic).
Its ancient name was Lilybaeum (which means "Looking at Libya") and Marsala is much closer to Tunisia and Africa than to Italy's mainland and Europe.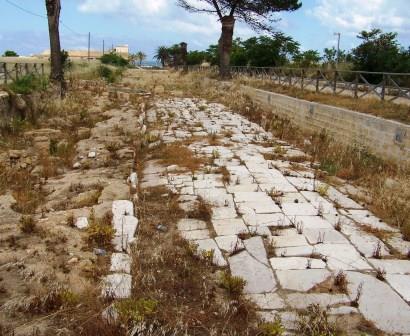 There is an interesting archeological museum in Marsala, including finds from ancient shipwrecks--and even remains of an ancient Phoenician ship.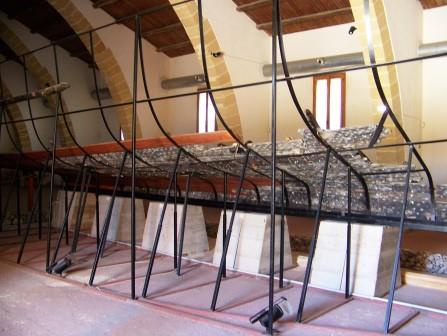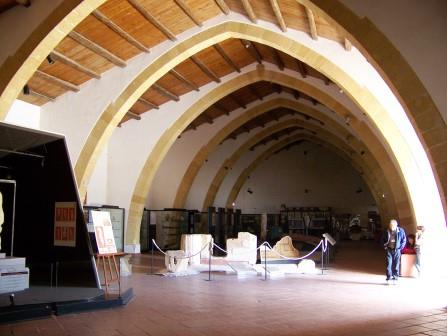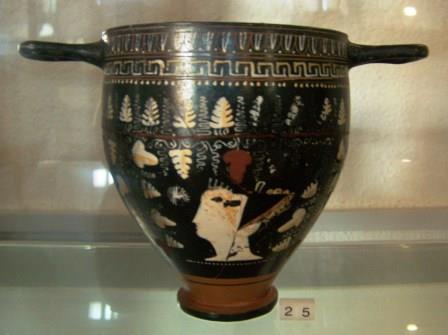 There isn't much to see in central Marsala, though the Church of Purgatorio ("Purgatory"), beside a gate in the old city wall, was attractive.
Yet another stop of ours on the west coast of Sicily was in the mountaintop village of Erice. It is only a short distance from the coast,
but 750 meters (or about 2500 feet) above sea level, so the views on all sides are fantastic--including to Trapani (below on the right).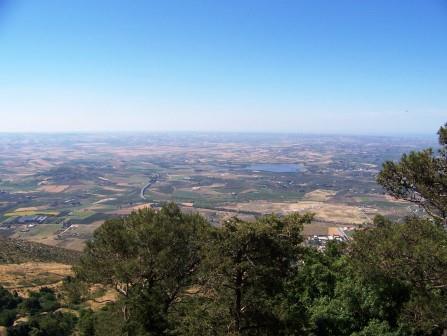 The village is not very big--only a dozen streets--but it is very quaint and filled with beautiful buildings.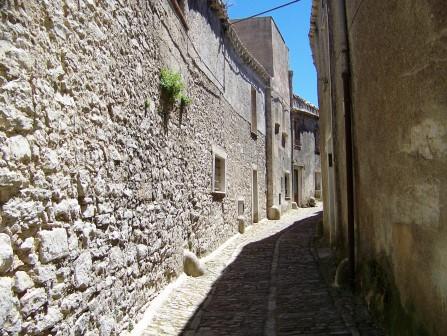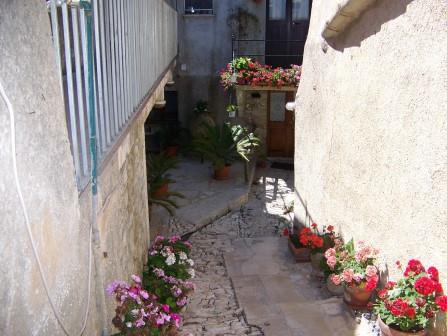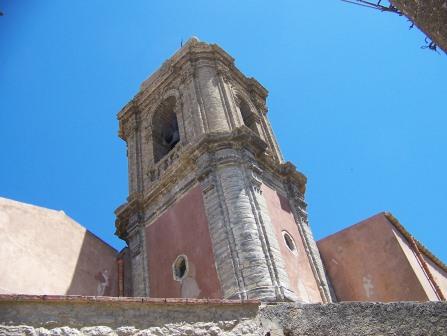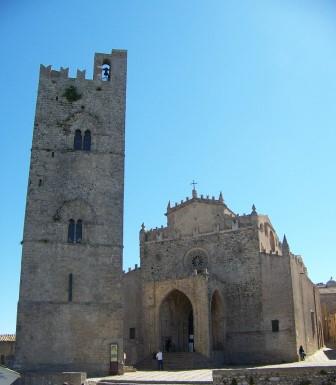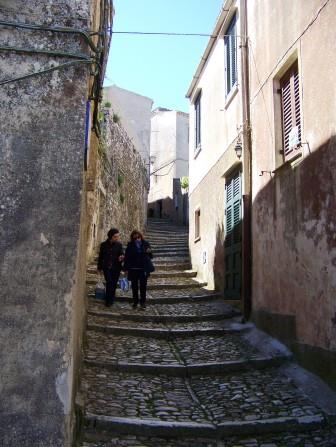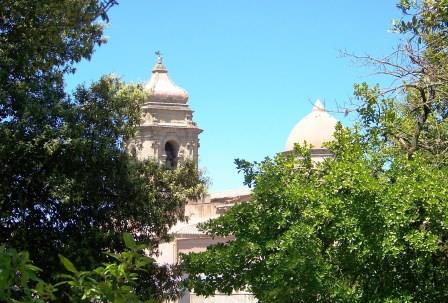 In one corner of the village is the Castello di Venere, built in the Norman period over a Roman temple to Venus.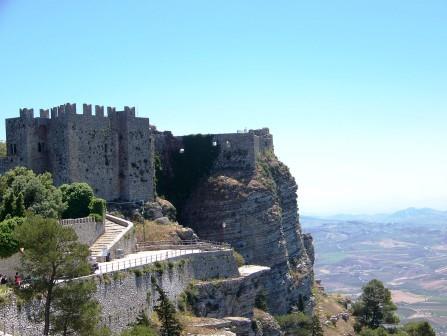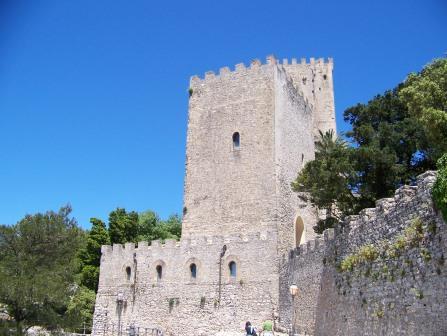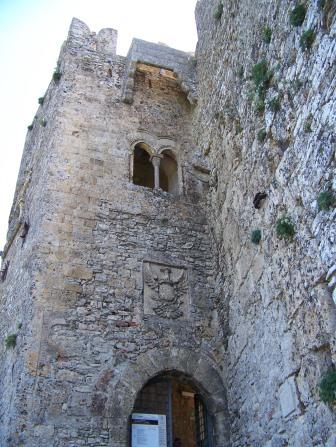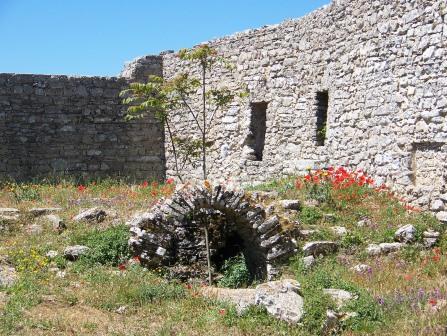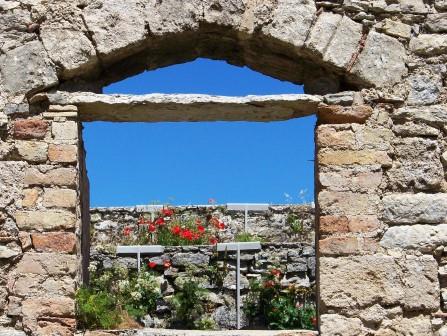 The church of San Giovanni Battista ("Saint John the Baptist"), also perched on the mountain's edge, dates from the fourteenth-century Spanish period.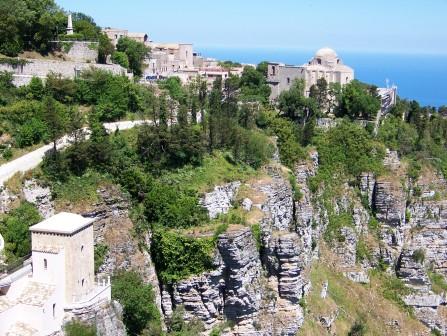 Below is the Castelletto ("Little Castle") Pepoli, built in the 1870s as a hunting lodge for a wealthy resident.
Close this page to go back to the main menu for Sicily.