Palermo: An Introduction
Palermo is the capital of Sicily, an island that is the southernmost region of Italy. Joe and Matt spent a week here before Brian was able to join them. They stayed in a great apartment near the Piazza San Domenico (almost at the center of the map below) so it was easy to see most of the city on foot.
Palermo was founded in the eighth century BC by the Phoenicians (from what is modern Lebanon) because of its natural harbor, and intended as a trading post with the native peoples of Sicily. In Palermo and throughout Sicily, Phoenicians competed with Greeks for trade and settlement, but both were eventually conquered by the Romans in about 250 BC.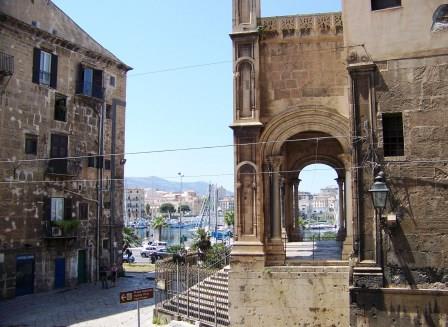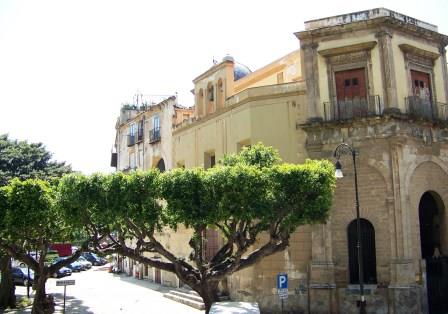 The old harbor is fairly quiet these days, filled only with sailboats and yachts. The modern port has moved further up the coast.
The quiet of the waterfront is in real contrast to the noise and traffic of the rest of central Palermo. The whole of the city has a distinct "faded glory" feel to it.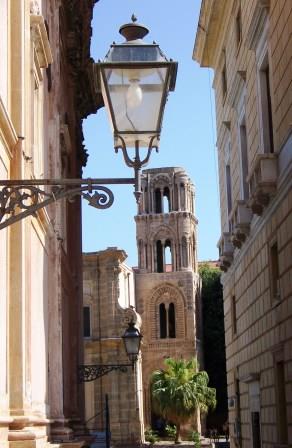 Below is the narrow street where our Palermo apartment was located--and graffiti on the wall near the entrance to it.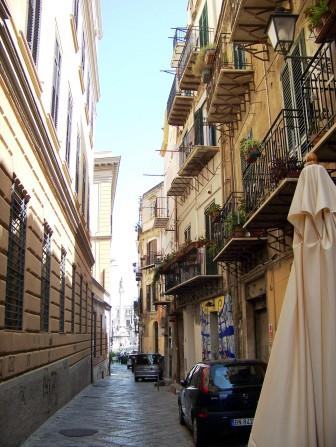 The apartment looked out over the roofs of Palermo to the spires of San Domenico (Saint Dominic) church and the mountains beyond.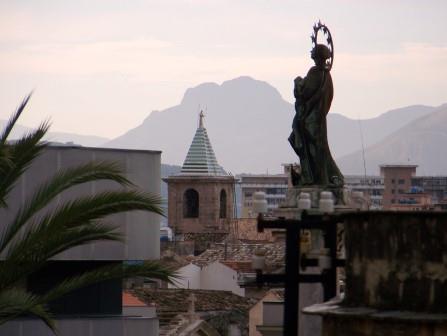 Matt was in Palermo to do research on a saint: a Roman martyr named Expeditus, nowadays the patron saint of urgent causes.
The church of Sant'Espedito in Palermo, built in the 1930s, is the only Roman Catholic church in the world dedicated to him.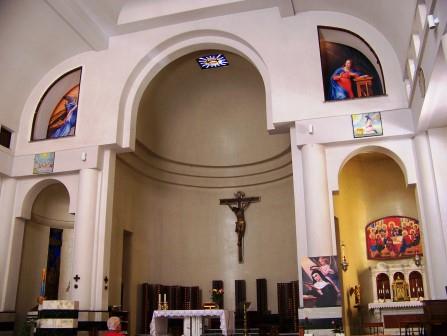 Expeditus is always shown dressed as a Roman soldier, holding a cross in one hand and the palm branch of martyrdom in the other, and stepping on a crow. His legend says that the devil appeared to him in the form of a crow and tried to tempt him to postpone his conversion to Christianity. The Latin word "cras" (seen on his statue coming from the bird's mouth), sounds like a crow cawing and means "tomorrow"--as if the devil were telling him to do it "tomorrow."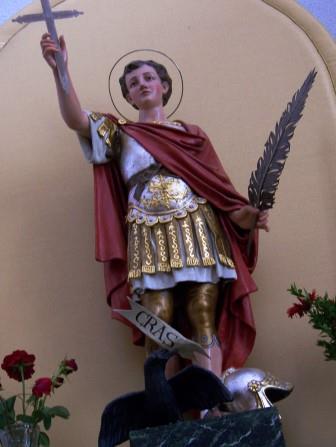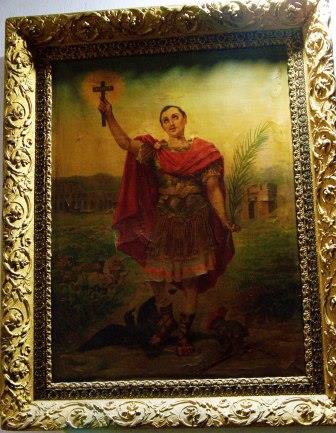 Joe, meanwhile, experimented with Sicilian foods and cooking. Here is the owner of the apartment, our host Giuseppi, advising Joe on how to cook octopus. He bought the octopus at the market, prepared it, and joined us for dinner.
Joe also enjoyed a one-day cooking class with a local restaurant owner, who lived in the US while growing up and spoke English. Their day included a visit to one of Palermo's famous outdoor food markets, tasting unusual local delicacies and selecting the ingredients they later prepared.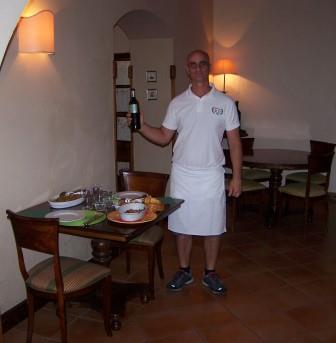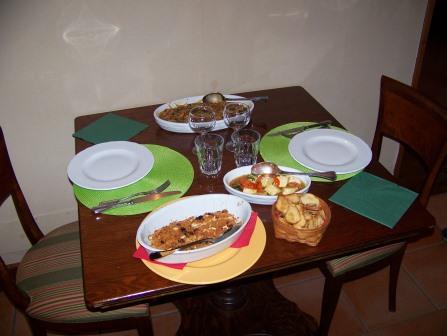 Close this page to go back to the main menu for Sicily.