Torre Montioni
This was the name of the place we stayed during our second week in Italy.
It truly deserves a webpage of its own, because it was so beautiful.
It's a medieval tower now divided into two apartments. We rented both.
Attached to the tower is a modern addition where the family that runs the place lives.
Above is the approach to the place, after a serpentine drive through the vineyards.
Below, the entrance drive lined with cypress trees.
Above is the tower itself: you enter the lower apartment through this large doorway. You can see the modern addition behind to the left.
The tower is situated in the side of a steep hill, with olive trees below.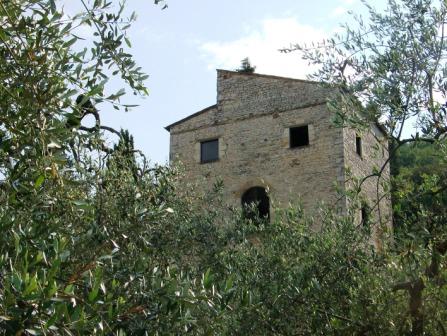 The interior of the tower is beautifully decorated with antique furniture.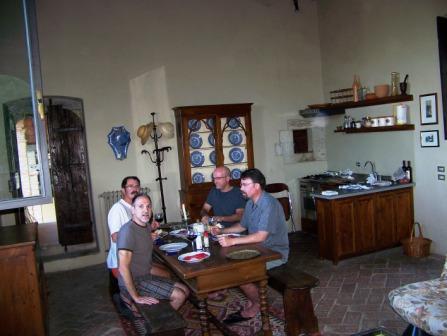 We ate all of our evening meals at the tower, in the great room (above right) that was the middle floor of the tower.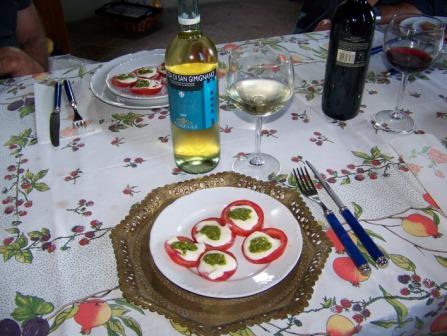 The family has created a pleasant terrace beside the tower where we relaxed in the late afternoon with a glass or two of wine.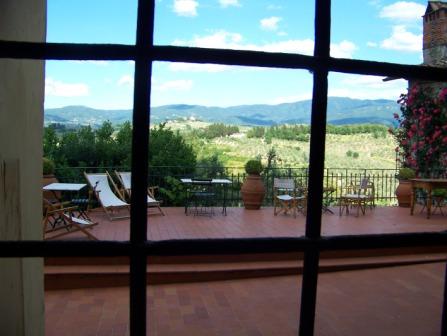 One day the father of the family was picking cherries from a cherry tree near the tower--and then his young daughter
brought us a basketful of fresh cherries at the end of the day! (You can see them on the table in one of the photos above.)
One of the best things about Torre Montioni was the views from the tower and terrace, looking out across the Tuscan hills--spectacular!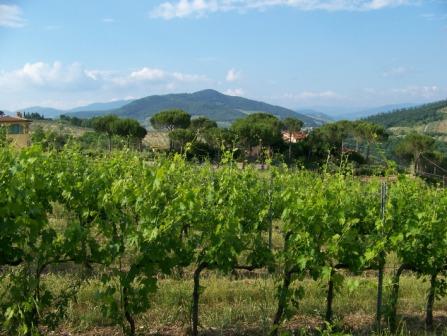 Every day that week we set out to explore a different part of Tuscany: Pisa and Lucca one day, San Gimignano and Siena another, and three days in Florence.
(On the days we went to Florence, we simply drove to the nearest town to our tower, called Pontassieve, and then took the quick and inexpensive commuter train
right to the center of the city. What an easy way to see it without having to worry about traffic or parking, which is a nightmare in and around the city itself.)
But among the favorite parts of the trip this year was returning at the end of the day to our beautiful medieval tower in the vineyards of Tuscany.
Close this page and click on the surrounding images from the map to see our photos from the sights of Tuscany.