Santorini, continued
We stayed at the south end of the island, near the town of Akrotiri, but also close to the caldera.
We were very glad we could get away from the crowds in Fira and Oía, and we had a very nice view from outside our tiny apartment.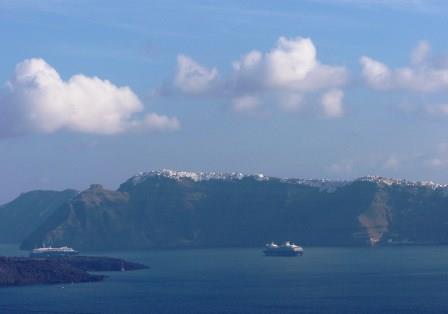 One afternoon we drove to the inland village of Pyrgos, which turned out to be a delightful place.
It is set on a high hill, so all streets climb upward past whitewashed houses and blue-domed churches.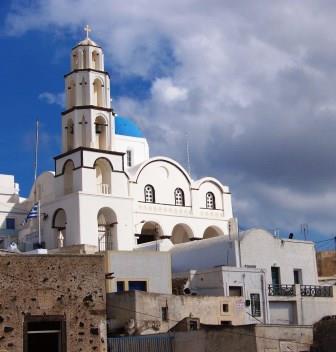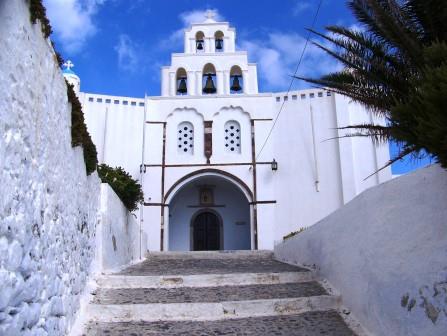 The views from the top of the village, though, were spectacular: across most of the island.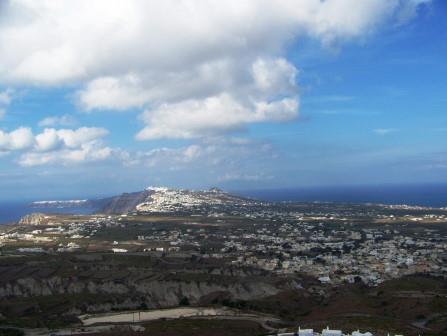 In fact, there were many places around the island that offered unforgettable vistas.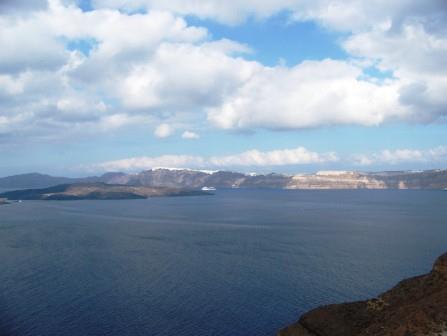 Santorini is a wine-growing island, but because of the winds, vines are grown along the ground rather than upright as done everywhere else.
Santorini is also home to some amazing archeological sites.
One of these is ancient Akrotiri. It was a settlement of the Minoan civilization of Crete, and was destroyed when the volcano erupted in about 1550 BCE.
The whole city was covered in volcanic ash--like Pompeii much later--and so preserved, rediscovered only in 1967. But there are no skeletons, so--unlike
the people of Pompeii--the ancient residents of Akrotiri must have had some warning of the volcanic eruption, and left the city before it was destroyed.
Here is a model showing the area that has been excavated.
And here are the excavations themselves, entirely covered over with a modern roof.
Many ancient objects were found in place, including furniture and vessels for preparing and storing food.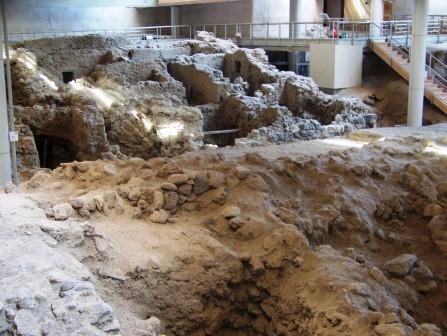 Walls of houses, streets, and the ancient town walls have all been found and are all still recognizable.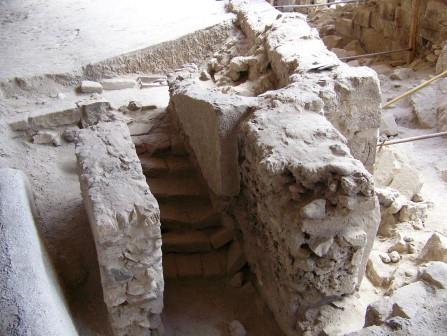 Akrotiri was abandoned and never rebuilt. When people returned to the island they built a new town on the southeast part of the island.
The site, known as Ancient Thira, is set on a mountaintop. It remained in use through the Greek, Roman, and Byzantine eras,
but was abandoned in turn after another, smaller volcanic eruption in 726 CE. It was excavated in the nineteenth century.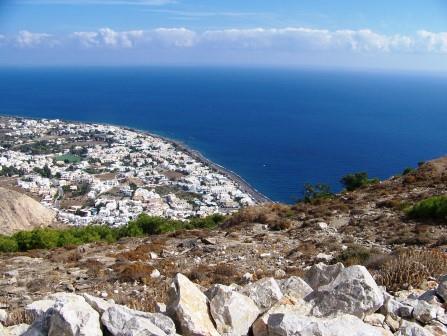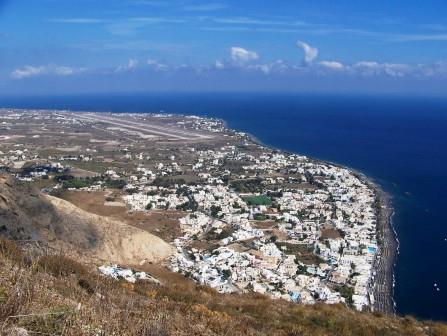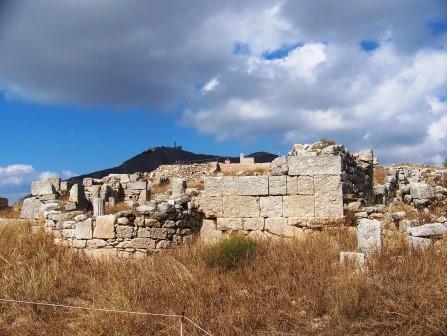 In addition to homes, there are vestiges of a temple, a gymnasium, and a theater, and also the ancient agora (main square) and stoa (market hall).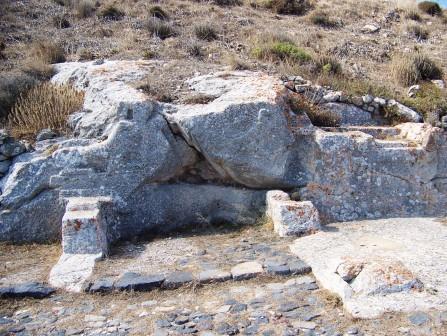 We still had some time until our flight departing Santorini. So we visited the mansion of a wealthy nineteenth-century resident of the island.
It wasn't much of a mansion, but has been carefully restored to its original appearance, including brightly painted ceilings in most rooms.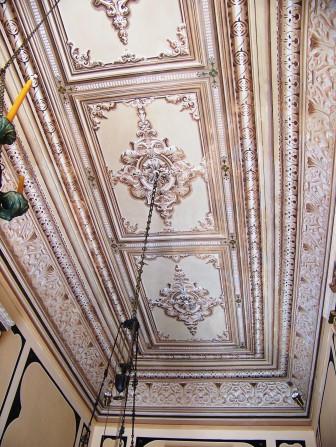 We spent our last few hours on a deserted, wind-swept beach near the airport.
Then we flew out of Santorini's tiny airport, back to Athens and then back to the US.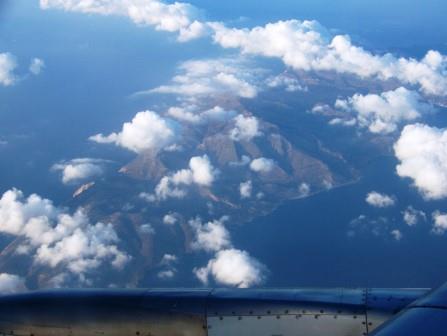 We hope you've enjoyed our photos!