Messenia
Messenia was one of those unexpected delights that we always hope for on our travels.
Our plan was to travel south from Olympia along the western coast of the Peloponnesos
before heading east to our next scheduled stop. But the scenery was truly amazing, it
seemed almost a shame that we couldn't have spent more time here before moving on.
We stopped for an iced coffee in the main square of the town of Gargaliani.
They were preparing a stage for the festivities of Ochi Day that were taking place the next day.
A bit farther south we reached the beautiful Navarino Bay.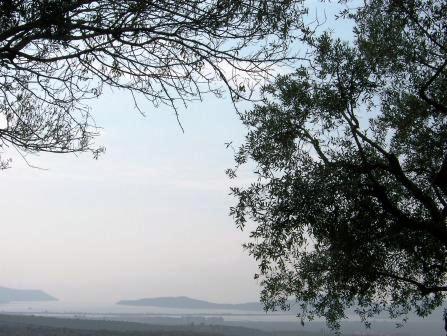 Near to the bay are the ruins of what is called Nestor's Palace. Nestor was a character in the ancient poem called the Iliad, who came from Pylos and took part in the Trojan War. The ruins of this palace date back to the twelfth century B.C., that is, from the Mycenaean period, over three thousand years ago. The ruins are remote so we were almost the only people at the site when we visited.
The ruins are a series of rooms that were once surrounded by a thick wall. You can see some of the blocks from the outer wall (above left) as well as bits of the tiled floor (above right). At the very center of the complex is a large throne room with a giant hearth for an open fire (below left). Many of the rooms had columnns that supported the roofs, of which only the bases survive (below right).
One of the most interesting elements of the palace compound is what may be an ancient bathtub, its decoration still visible after thousands of years.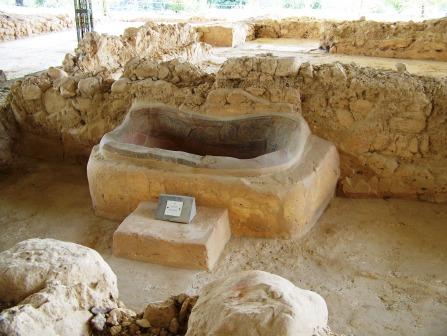 Another brilliant wildflower in bloom.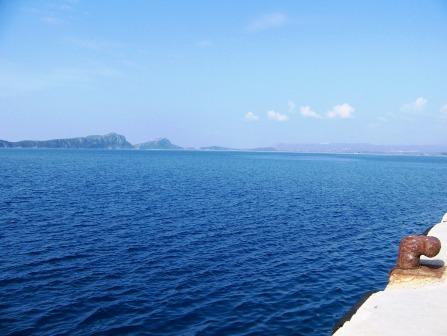 Along the shore of Navarino Bay is the modern town of Pylos, curved around its harbor.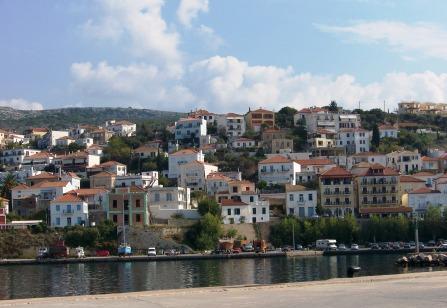 The town was delightful, busy with locals. One of the guidebooks recommended an out-of-the-way restaurant that took a while to find. But the place was one of the real highlights of the trip. We ate in a beautiful outdoor courtyard (below left). To select our lunches, the cook opened up all of the pots she had on the stove and explained to us, half in Greek and half in English, what each was. We each chose two dishes (when one would probably have been enough to eat!) and enjoyed each and every one of them!