Gytheio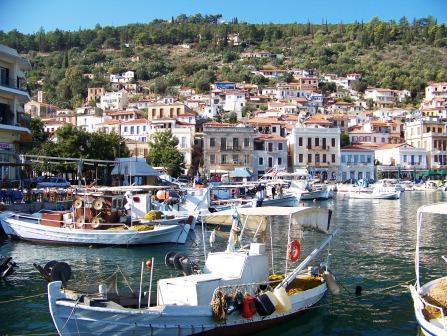 Gytheio seemed like quintessential Greece. It was a small fishing town on the south coast of the Peloponnesos. We stayed there for five nights, in a little hotel right on the harborfront, because it was a convenient base from which to explore the region. What a great place!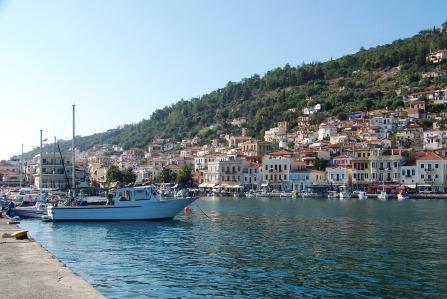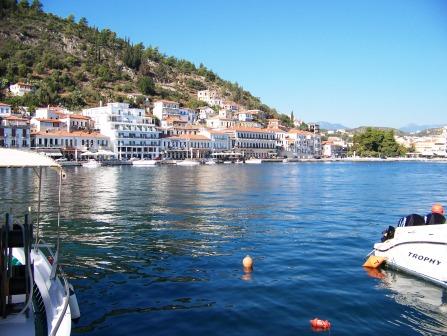 There isn't much more to the town than the harborfront, which is also the main street In fact, the whole of
the town is only about three blocks wide (running steeply uphill) but thirty blocks long--perfect for strolling!
What could be more Greek than the sight of octopus hanging in the sun to dry!
At one edge of the town is the island of Marathonissi, now joined to it by a causeway. A legend says that after Paris captured Helen of Troy they spent their first night together here.
Now there sits on the island a small chapel (below left), a lighthouse (below middle), and the Turkish era fort, now the local museum (below right).
The waters again teem with fish (these are small black fish by the thousands).
The island presents great views looking back toward the town of Gytheio (below left) and out to sea (below right).
Below is the hotel where we stayed. Our room was at the very top of the stairs on the left. The breakfast room had an unusual decor, but it was carved into the hillside.
We ate at this waterfront restaurant twice--it had the most memorably delicious food of our whole trip!
From the balcony of our hotel room we watched the different ships come in and out of Gytheio's harbor. What a treat--with a glass or two of wine, of course!--at the end of a hard day's touristing!
One of the highlights of the days in Gytheio were the Ochi Day festivities. Ochi is the Greek word for "no," and the day recalls when the Greeks, who had been neutral in the Second World War, refused to give permission to the Nazis to transport troops through their country and showed their decision to side with the Allies. The Nazis quickly occupied Greece, but the resistance to them is commemorated this day. Gytheio is one of the few towns that still has a parade. The whole town gathered to watch the local military men and schoolchildren march down the harbor front.
The local dignitaries (including an Orthodox priest with a long flowing robe and equally long flowing beard) all spoke in front of the war memorial.
Four schoolgirls wore what was apparently traditional clothing and carried a large Greek flag, arms waving back and forth in unison.
It was quite an adventure watching the whole thing!
Below is Gytheio at night--again, what a great little town!
Click here to continue with the Mani peninsula.