The Attic Peninsula
Our trip to Greece was coming to an end.
We had an early morning flight out of Athens airport, so we spent the day before driving back from Nafplion to Athens, and spent the night before at an airport hotel.
Along the way, we crossed over the Corinth Canal. It was built at the end of the nineteenth century A.D.--and is not much used anymore because it is so narrow. The idea--considered already in antiquity and actually started by the Romans--was to cut a channel across the isthmus and so connect the Gulf of Corinth to the Aegean Sea.
Once on the Athens side of the isthmus there is mostly uninterrupted industrial ugliness and lots of traffic.
On the far side of Athens, though, the Attic Peninsula reveals some ancient sites and rural beauty.
We stopped at ancient Brauron, the site of a Temple to Artemis, the ancient Greek goddess of the hunt and wild animals.
In ancient times the temple was staffed by priestesses called "bear maidens." Girls from ancient Athens came out here
before being married, to spend some time in reflection and relaxation--and then burnt their childhood toys in honor of Artemis.
It's not a great photo (below), but this bridge over the highway near our airport hotel was an interesting piece of engineering--and art.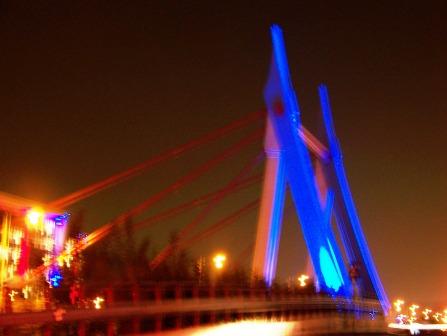 We hope you've enjoyed our photos of Greece!
Close this window to go back to the main page.