The Argolid Peninsula
Another of the day trips we made from Nafplion was into the Argolid Peninsula to see the ancient sites of Tiryns and Epidauros.
The ruins of Tiryns are only a few miles from Nafplion. Like Mycenae, the town was built by the ancient Mycenaeans in about 1300 B.C.
The walls are built of huge blocks of fitted stone, and it is estimated that they were once twice their modern height.
The town was destroyed in about 500 B.C. by the people of the nearby town of Argos.
We were the only ones at the site that morning. Among its curiosities are this vaulted
walkway (below left) and what seems to have been a large shower for bathing (below right).
From Tiryns we continued further to Epidauros.
In antiquity Epidauros was an important shrine to Aesclepios, the ancient Greek god of healing.
Accordingly, it was a place of medicine where doctors were trained and patients treated.
The Aesclepion was the Temple where the sick would spend their nights, hoping to receive a vision from
the god instructing them on what they should do to be healed. It is in the process of being partially rebuilt.
Because so many persons came to and spent time at Epidauros, hostels and other facilities were built for them,
including a theater, built in the fourth century B.C. and restored in 1954 for modern performances.
The acoustics are so good that it is possible to be seated in the back row and hear someone at the center of the
stage tearing a sheet of paper in two (we know because this was being done by a school group while we were there!).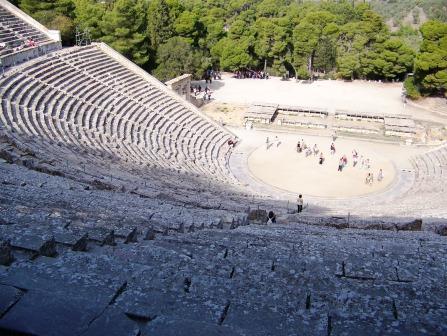 There was also a stadium for races--since exercise was part of the treatment for many at Epidauros.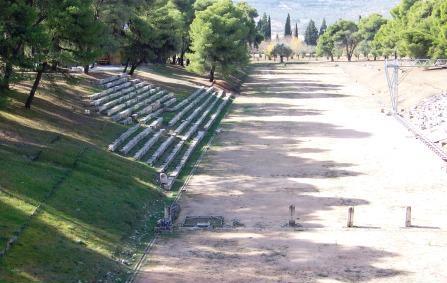 Along the roads we saw several Byzantine churches.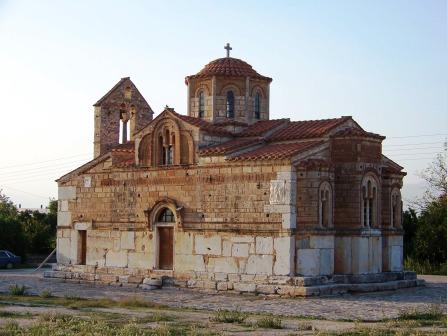 The one below, not far from Epidauros, was built in part from marble slabs stolen from the seats in the ancient theater.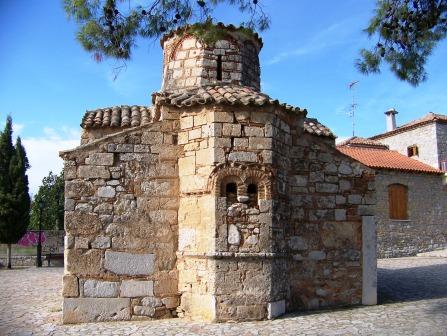 Like other Orthodox churches, the interior was simple. The church was built in the eleventh century A.D.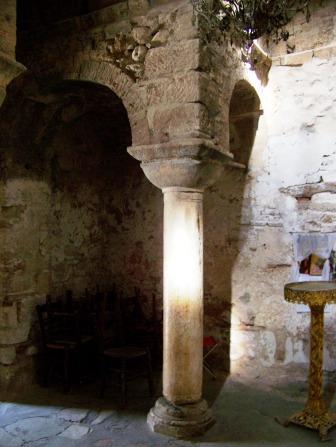 Click here to end with the Attic peninsula.