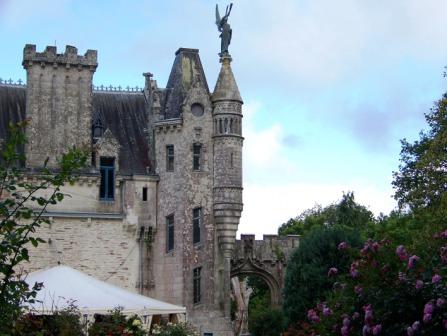 The South Coast of Brittany:
Château de Keriolet, Concarneau, and Saint-Goustan
The Sunday after our arrival at our third week's house, we drove along the south coast of Brittany.
Our first stop was the Château de Keriolet, built in the late nineteenth century in a medieval style.
Unfortunately, it was closed on the day we visited, so we could only look around the grounds.
The guardhouse came complete with its own permanent guard dog!
The château was just inland from the city of Concarneau. Concarneau was begun in the
Middle Ages on an island, which was later fortified with a wall that completely enclosed it.
The modern city now extends to the mainland, and a bridge connects the island, but there is
still a real medieval feel to the island. There is still a big tuna fishing industry located there.
We arrived at low tide, but by the time we left it was high tide. The
photos above show the bridge that connects the island to the mainland.
The island, which is pedestrian only, has only one central street, lined with souvenir shops and restaurants.
Later that day, we stopped for a drink in the village of Saint-Goustan, across the river from the city of Auray.
There isn't much happening there, especially on a Sunday afternoon, but we enjoyed the relaxed feel of the place.
A wide seventeenth-century bridge connects Saint-Goustan to Auray.
Click here to see the next page, or close this page to choose your own next page from the map.