Mont-Saint-Michel
No trip to the region would be complete without visiting Mont-Saint-Michel, one of the most famous sights in the world.
Its history began in the Middle Ages, when a small monastery dedicated to the archangel Michael was built on the island.
Over the centuries it was enlarged, and then a town sprang up below it, and eventually fortifications were added.
This series of models in the church shows the island's development over the last thousand years.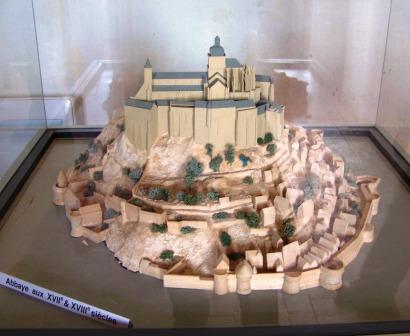 Mont-Saint-Michel is an island, and it could only be approached by boat or at low tide. In the nineteenth century a
causeway was built to join the island to the mainland, but over time the causeway has blocked the flow of the tides
and resulted in sand piling up around the island. So the French government has begun a project to remove the
causeway and replace it with a bridge. The causeway allows cars to cross but the new bridge will be pedestrian
only. Already you must park on the mainland and take a bus or walk--quite a long way!--over to the island.
You enter Mont-Saint-Michel by its old fortified gateway . . . and are greeted with endless souvenir shops!
Sadly, Mont-Saint-Michel is too pretty for its own good, and is mobbed by tourists. We got there as early in the day
as we could, but by the time we had walked up to the church and back down--along the town's only street, it was
difficult to move with all the visitors. We wondered what it must be like in the height of the summer months.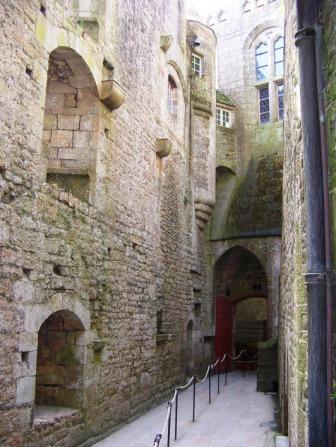 As you wander upward through the town, the monastery church always looms overhead.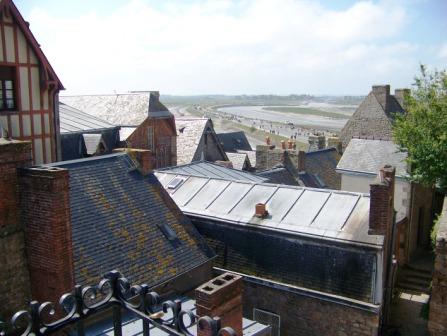 Here and there, openings in the buildings allow for sweeping views across the sands around the island.
We toured the mixed Romanesque and Gothic church and monastery at the top of the island.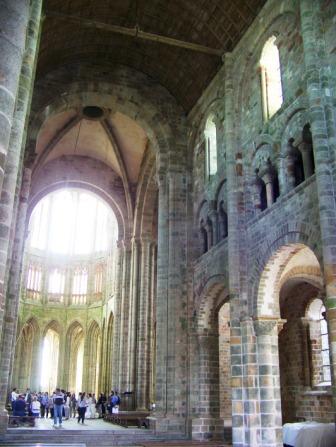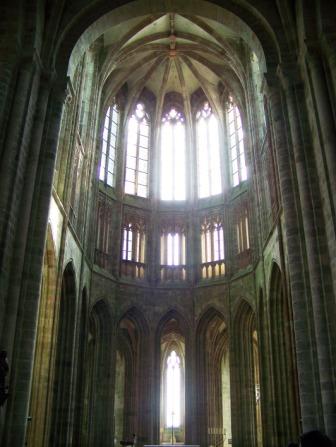 The monastery included beautiful vaulted room after room.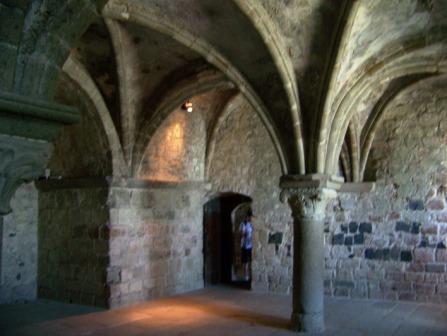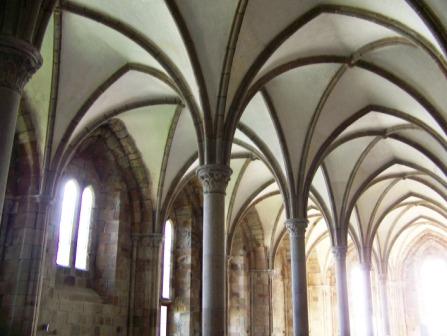 Also interesting was the gigantic crane and sleds that the monks used to lift supplies up to the monastery from the edge of the island.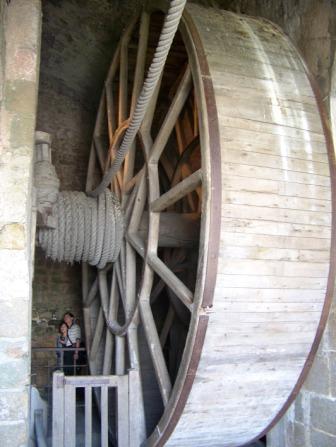 All in all, a fascinating day!
Click here to see the next page, or close this page to choose your own next page from the map.