Upper Provence
When Brian and Joe flew back, Matt rented his own car and drove into the foothills of the French Alps.
His first stop was at Sisteron, in the region called Upper Provence, where he stayed for five days.
Sisteron
Sisteron is situated along the Durance River, that has provided a natural pathway for armies traveling between
France and Italy for thousands of years, from the Carthaginians under Hanibal to the Romans to Napoleon and
to the Allied forces during World War Two. Sisteron is situated at a point where the mountains on either side
of the Durance River valley almost meet, so it has been a natural spot for a town and for a fortification.
Looking north over the town from the castle, with the river (widened at this point into a reservoir) on the left.
The castle dominates the town.
In the photo below, you can see how closely together the mountains on either side of the river come together.
Below is the view west from the castle to the face of the other mountain across the river (now joined by a bridge).
There are impressive views on all sides: below, looking out from the castle towards the south.
In the eighteenth century, steps were dug through the mountain from the castle to the town below.
The Romans built a wall to protect the town, and several of the towers of this wall still stand.
Nearby is the medieval church and the beautiful simplicity of its arches and vaulting.
The town is not the most scenic, and seems to be a bit economically depressed, but still had its sights.
The older parts of the town include many steep streets, leading down to the river.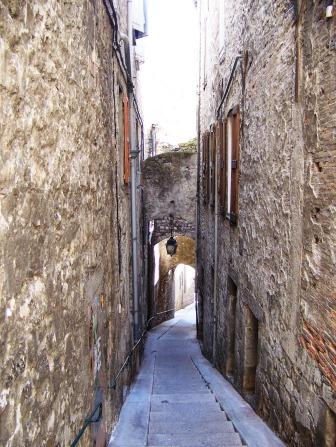 Matt stayed in a hotel with this charming lobby.
While he visited local archives in the region, Matt also saw some of the countryside,
including this interesting rock formation called the Rochers des Mées.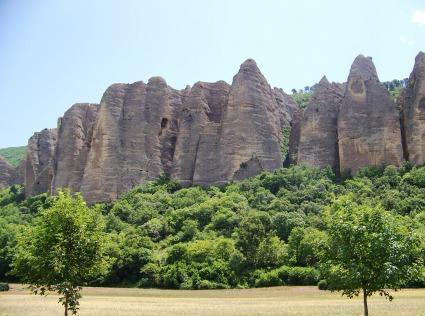 At Manosque there is a venerated statue of the Virgin Mary and Child that is a thousand years old.
One afternoon, Matt drove back through the picturesque village of Château-Arnoux,
and had to stop at an outdoor cafe and have a drink, admiring the view.