The southern Tarn region
To the north and east of Toulouse is the southern part of the modern French district known as Tarn because of the river that flows through it.
We had seen the northern part of this region during our trip to France in 2006, including Albi and Cordes-sur-Ciel,
both of which were beautiful places. The southern part of the region is quieter and less glamorous but has its own appeal.
Our first stop on our drive through the southern Tarn was at the town of Rabastens.
At the center of Rabastens is the church of Notre-Dame du Bourg, built in
the thirteenth century, with vibrant frescoes from the fourteenth century.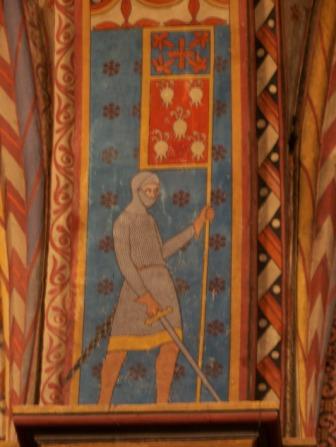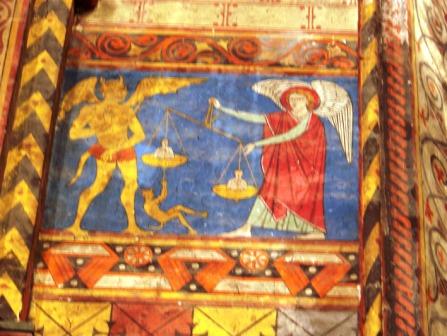 Our next stop was the nearby town of Lisle-sur-Tarn. It was built in the
twelfth century as a "planned" town, called a "bastide," laid out on a grid.
At the center of Lisle-sur-Tarn, as with all bastides, is a large open square that served as the marketplace.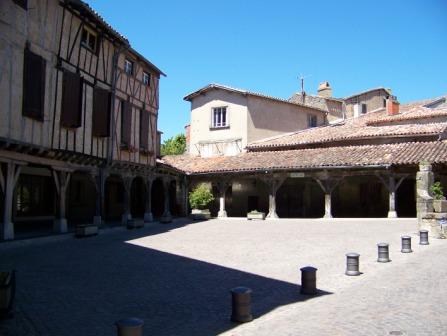 The buildings around the square have covered arcades, as in other bastides.
At the edge of town runs the Tarn river.
We then drove through the countryside to Lautrec, a sleepy village dominated by a windmill on the top of its hill.
From the windmill is a great view over the village.
The region was known in the Middle Ages for the woad plant that was grown here (called pastel in French) that provided a blue dye for textiles.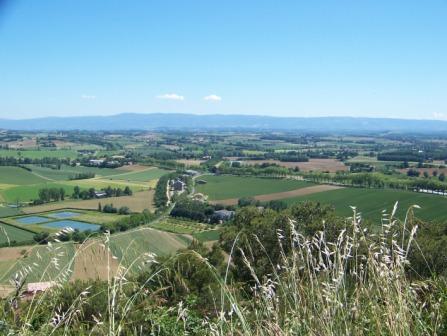 The town and region are both pretty quiet nowadays.
Our last stop of the day was at Castres, a larger town on the Agout river that
is lined by colorful houses with basements opening directly to the water.
Castres has a great museum of Spanish art in what was once the residence of its bishops, a building dating from the eighteenth century.
Castres also has attractive pedestrian streets through the center of town and mansions from earlier centuries, built with the dyers' wealth.