Montpellier
Montpellier's origins date only from the Middle Ages, and was part of the Spanish Kingdom of Aragon
until it was sold to the King of France in 1349. After that, since it was the main French port on the
Mediterranean, it quickly became a large and bustling commerical center--although it was later
"upstaged" by its rival, the port of Marseilles, which became part of France together with the
rest of Provence in 1481. Nowadays it is a large but well-to-do and very attractive city.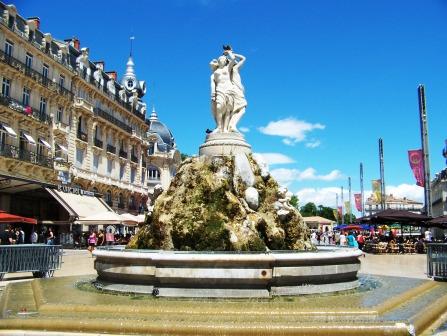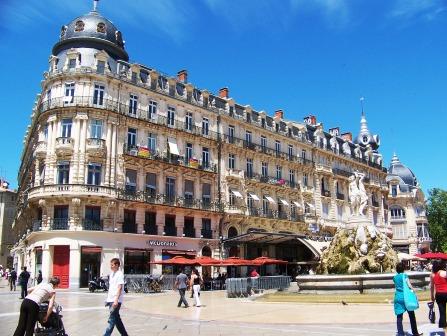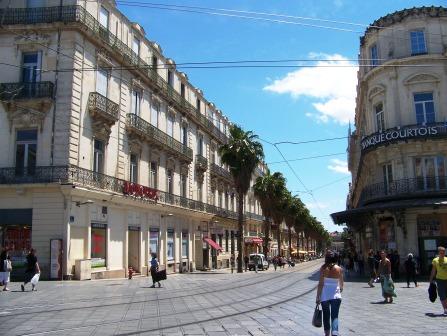 Montpellier's main square is the huge and welcoming Place de la Comédie,
lined with elaborate nineteenth-century mansions and sidewalk cafes,
and crossed by Montpellier's shining new surface metro rail line.
Stretching out from this square is a long, tree-lined boulevard that
provided shaded strolls for us and for most of the city's inhabitants.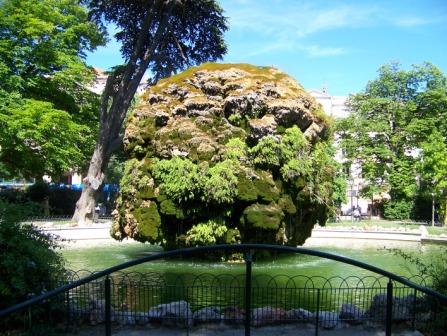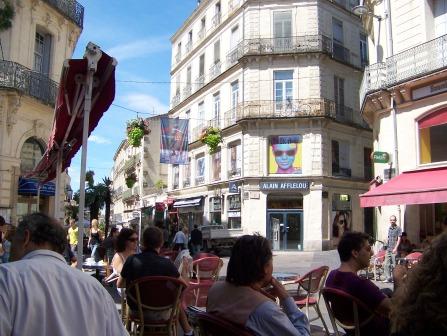 Throughout the city there are other appealing parks and squares.
The heart of Montpellier is its medieval town of narrow and winding streets,
filled with shops and restaurants and mostly for pedestrians only.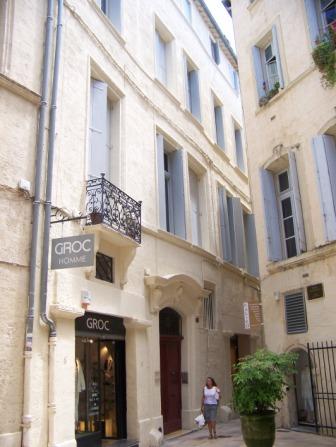 It was in this medieval quarter that we stayed for our third and final week together. That is our apartment
building in the photo above on the right; we had the third floor apartment above the "GROC" store.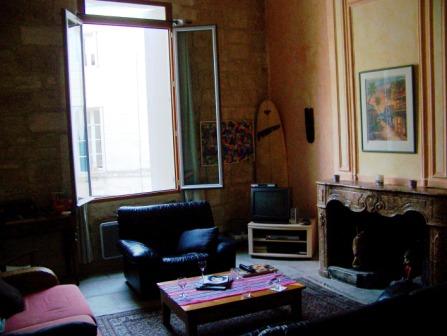 The apartment was very nice, and ideally situated.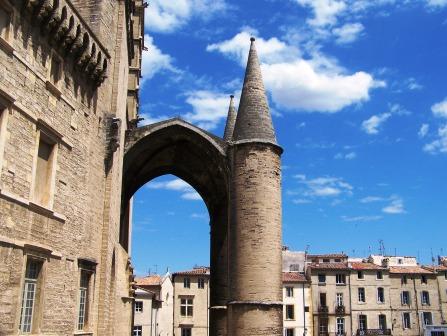 The cathedral of Montpellier is unusual looking with a curious
"front porch" of towers dating from the fourteenth century.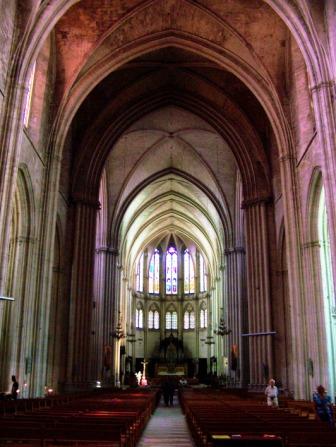 Inside is an elegant Gothic church, with medieval stained glass and even a statue of Saint Expeditus.
Next to the cathedral is the University of Montpellier. It was begun in the Middle Ages, one of the first in Europe,
and famous through the centuries for its School of Medicine. (Matt did some research at the library of this School
of Medicine, which houses a considerable collection of medieval manuscripts.) This fourteenth-century building
(shown in the photo below), once a Benedictine monastery, was given a new facade in the eighteenth century.
One of the funkiest elements of Montpellier was the district called Antigone. It consisted of a hundred acres near the city
center that had formerly been used for army training, but that was given to the city in the 1980s. It has been developed
with housing and offices, most designed by the Catalan architect Ricardo Bofill, in a postmodern neoclassical theme.
Most interestingly, it is mostly also a pedestrian area with squares and fountains, and parking lots only on its periphery.
Montpellier also has several interesting museums, including a museum of the Languedoc region
of southern France that includes a great collection of twelfth-century carved capitals taken from
Romanesque churches, depicting scenes of everyday life, biblical stories, and episodes from saints' lives.