The central Pyrenees:
Saint-Bertrand de Comminges, Lourdes, Foix, and Montségur
The Pyrenees are a lofty mountain chain that forms the border between France and Spain.
One day we drove to Saint-Bertrand de Comminges and Lourdes to the southwest of Toulouse.
Another day we drove to Foix and Montségur, directly south of Toulouse.
Saint-Bertrand de Comminges is a small village that began as a Roman settlement.
In the Middle Ages a huge cathedral church was built here, high in the moutains.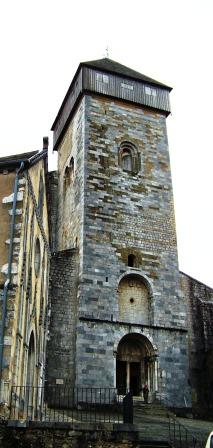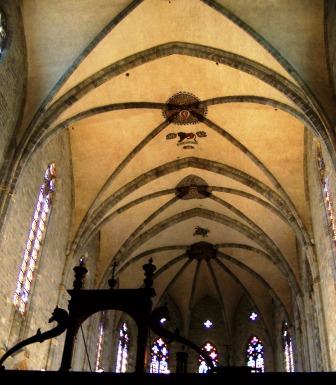 The cloisters of the former monastery there are beautiful, and overlook a mountain valley.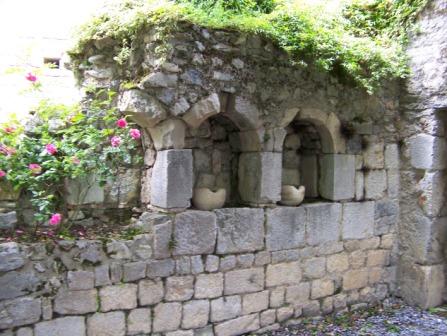 The bishop who sponsored the building of the church was later remembered as a saint and the town now takes its name from him.
Below he is depicted in a group of saints from a sixteenth-century wood carving inside the church.
For religious devotion, though, it is hard to top the town of Lourdes. The town sprang to fame in the middle of the nineteenth century
when a peasant girl (later, Saint Bernadette) claimed to have received visions of the Virgin Mary in a cave alongside the river outside of town.
"Our Lady of Lourdes" shows how the Virgin Mary was described by Bernadette: dressed in white with a blue sash and flowers in her toes.
The cave is still there, and is visited by over five million pilgrims a year, most hoping to be cured of serious illnesses.
Pilgrims purchase huge candles that burn before the shrine night and day.
The water that flowed from a spring inside the cave is thought to be especially efficacious in bringing about cures,
and has been diverted to spouts where it is eagerly collected by pilgrims in a variety of containers.
Within a few years of the visions, a church was built atop the cave, that has been enlarged several times.

The basilica church is filled in and around with religious art, including these beautiful
mosaics, below, found inside the ramp the leads to the upper church.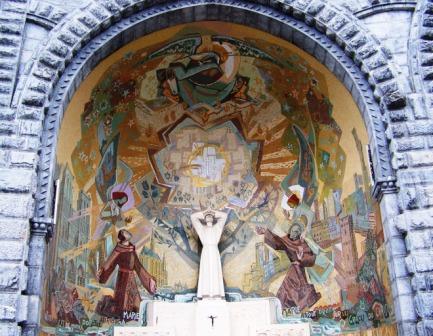 The church grounds now extend far beyond the cave and original church, encompassing a large boulevard
where processions happen several times a day, and that has now an underground auditorium below it.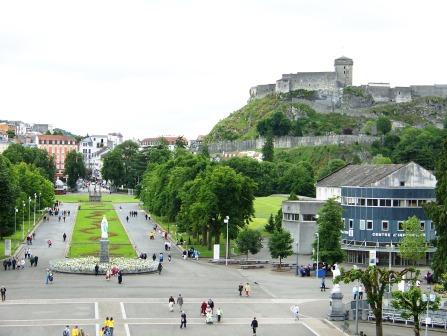 The rest of the town is entirely set up for the pilgrims, offering little else but hotels, restaurants, and shops selling religious souvenirs.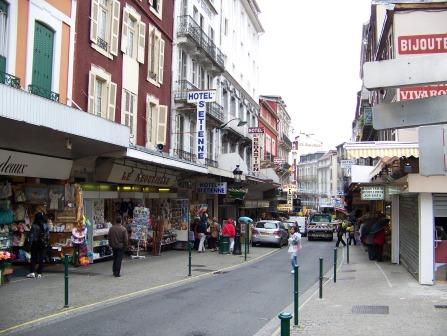 Foix is a much quieter and more attractive town, dominated by its castle that was built
mostly in the thirteenth century and that looks out over the town and the mountains beyond.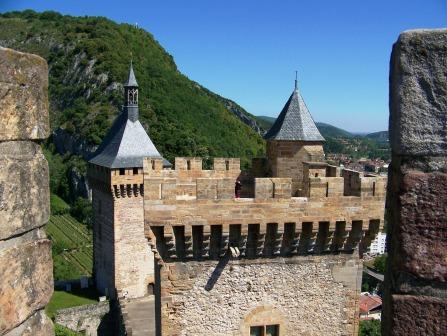 The castle of Foix is only one of dozens that were built in the Pyrenees during the Middle Ages.