Lyon
Our Arrival
The trip got off to a rocky start. Matt had flown to Paris a week earlier and had been doing research on the book he is writing on Saint Gerald of Aurillac. He was able to take the new high-speed train (called the TGV) from Paris to Lyon in about two hours. The station is right at the airport, and he was supposed to meet Brian and Joe, who flew directly to Lyon, when they landed.
So much for up-to-the-minute planning. Joe and Brian's flights were delayed, and they were stuck in London's Heathrow airport for a half a day. So instead of being able to drive to our first destination on the same day, Matt waited for the guys to arrive in an airport hotel. They did get there, but it was after midnight.
And, to make matters worse, their luggage had not made the flight with them. We had to take off the next morning, and we were going to be staying in a small village three hours' drive from Lyon, so we were quite nervous about getting the bags. But they did arrive the next evening, again, about midnight.
Whew! In any case, we drove west from Lyon into the region of Auvergne, stopping for lunch at the town of Thiers, long known for its manufacturing of knives and cutlery.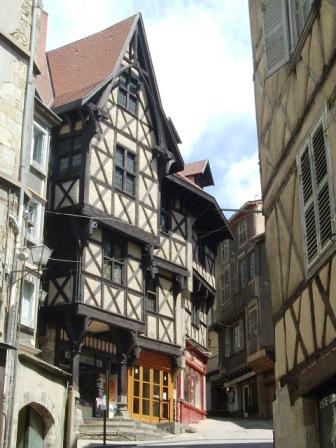 Left: a street scene from Thiers. Right: sculpture on a memorial to those killed in the First World War.
We also saw our first Saint Gerald churches at two villages not far from Thiers. The first was in a place called Auzat-sur-Allier and the second was in a place called Lempdes-sur-Alagnon. Unfortunately, the first church was locked up tight, so we were only able to see the outside of it. The second was open, though. Both show the mix of periods in many of the churches we saw, added to and renovated over the centuries.

Two views of the church of St.-Géraud in Auzat-sur-Allier. The round tower is probably the oldest part of the church.

Left: the exterior of the church of St.-Géraud in Lempdes-sur-Alagnon. The short rounded part is medieval, but the clock and bell tower is modern. Right: a stained-glass image of Saint Gerald, probably from the late eleventh century. Note the sword and church that he is holding: these are the most typical attributes associated with him. The crown that he wears comes from a late medieval legend that Gerald was descended from Charlemagne.
Click here to go to the next page.
Click here to return to the main page and map of France.