CYPRUS: The Turkish Zone
North Nicosia
The "Green Zone" between Greek and Turkish Cyprus crosses right through the middle of Nicosia and its old town.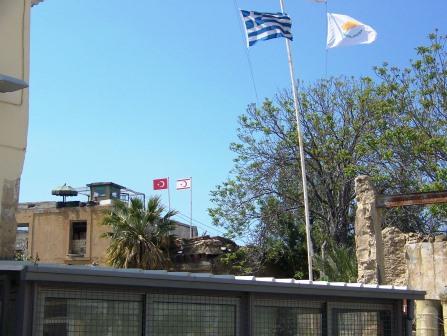 The Republic of Cyprus is the ethnically Greek part of the island. It is the only internationally recognized country, and part of the EU.
The ethnically Turkish part of the island calls itself the Turkish Republic of Northern Cyprus, but only Turkey recognizes its existence.
Crossing between the two sides has only been possible since 2008. Above right is the only pedestrian border crossing,
in the center of the old town. We crossed over for a guided walking tour of the Turkish old town one evening.
There are still many remnants of Nicosia's past, like the medieval building under restoriation, above left, and the former British colonial headquarters,
above right, but the Turkish region is much poorer than the Greek region, politically isolated and until recently without the income from tourism.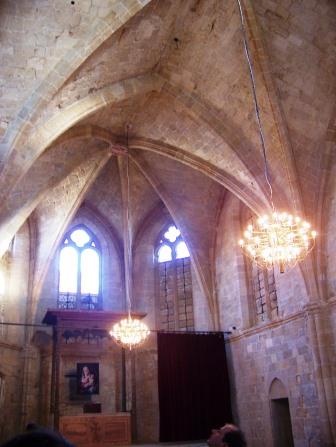 The former churches of North Nicosia have either been closed, converted into mosques, or turned into museums.
Among the most interesting sights was this caravanserai, an Ottoman era inn, with rooms on two floors around a courtyard with a small mosque.
Agios Hilarion Castle
One day we hired a taxi to take us to some of the places on the Turkish side.
(This is one of the few ways to see them, because you cannot take a rented car from the Greek side to the Turkish side.)
Perched high up on a peak in the Pentadaktylos Mountains is the castle of Agios Hilarion (Saint Hilarion).
Now in ruins, it was built by the Crusader kings of Cyprus in the 13th century. The only way to the top is to hike up!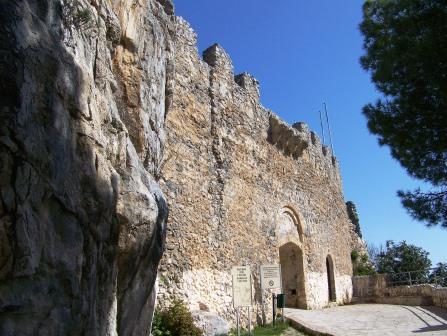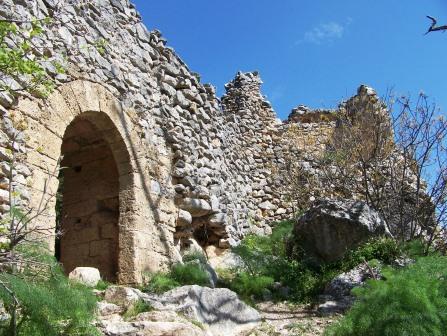 Once we reached the top, we were rewarded with indescribable vistas up and down the north coast.
Along the top of the ridge are the ruins of the summer palace of the Crusader kings of Cyprus.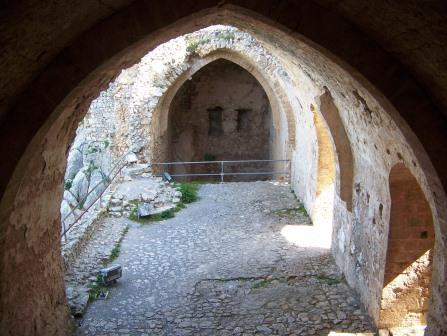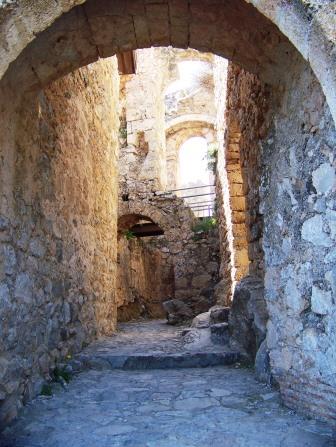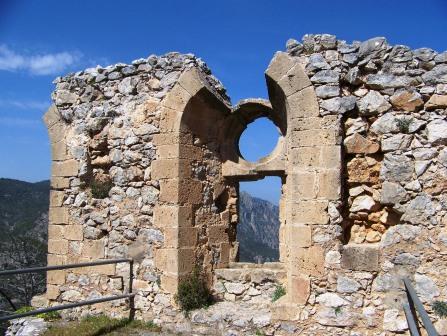 Girne/Kyrenia
After we descended to the coast, we had lunch in the seaside city of Girne (that the Greeks call Kyrenia).
It has a nice old harbor with a fort built by the Romans and successively rebuilt by the Byzantines, Crusaders, Venetians, and Ottomans.
It was a bustling city, but otherwise without many attractions for tourists.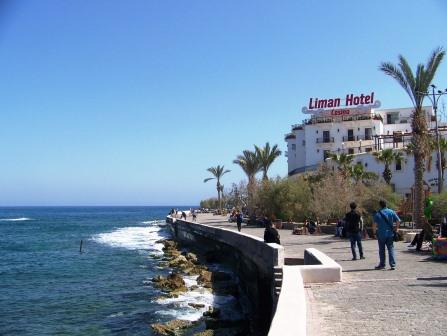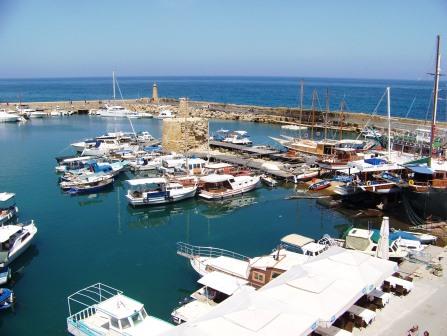 We had lunch at a restaurant that served traditional Turkish dishes, overlooking the old harbor.
Bellapaix
After lunch we made one more stop, at the town of Bellapaix. It grew up around a medieval monastery, which is now mostly in ruins.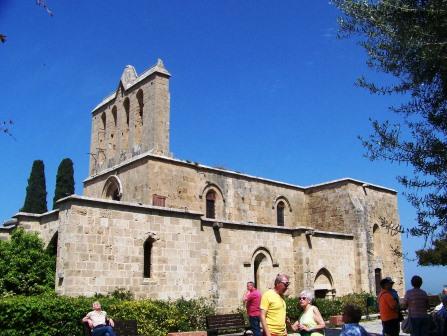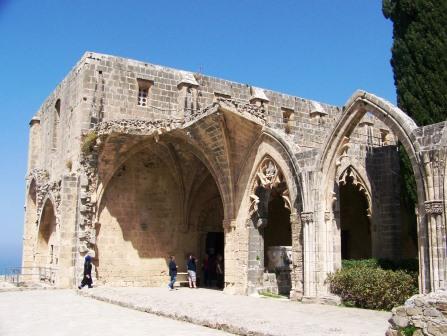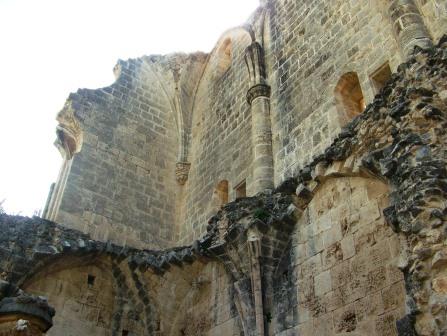 Bellapaix is best known as the home of Lawrence Durrell, who lived here in the 1950s
and described the idyllic village life of Cyprus and also the growing tensions as the war of independence began.
He referred to the "tree of idleness," still at the center of the village, where the old men sat and did nothing all day.

This is the last page of our photos! We hope you have enjoyed them!