CYPRUS: Limassol and the Mountain Villages
Kolossi Castle
After leaving the Paphos area, we returned to the south coast.
Our first stop was at Kolossi Castle, built in about 1454 AD by the Knights Hospitaller, who had been given the land
by the Crusader kings of Cyprus. They made a sweet wine called Commanderie, named after their local headquarters
and still produced locally. They also grew sugar cane, which they processed into raw sugar for export.
Around the castle are the ruins of an older medieval castle, built in the 12th century, when the Hospitallers first arrived here.
Below are the remnants of the medieval sugar factory.
Limassol
We spent Sunday in Limassol, which the Greeks call Lemesos. It was quieter than we expected, and most shops and restaurants were closed,
but there is a beautiful new seaside promenade on the waterfront. We took advantage of the sunny day to stroll along it, as did many others.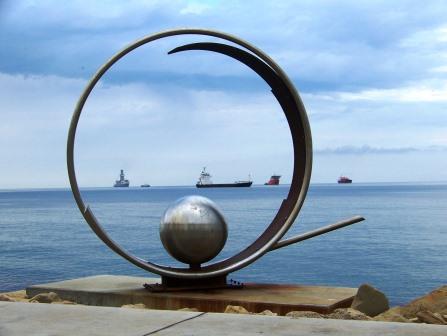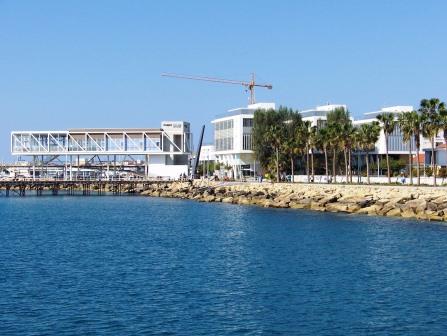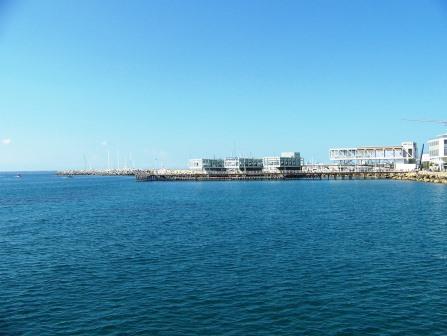 At one end of the promenade is a marina, with new buildings that house restaurants and shops.
We also walked around central Limassol.
We visited the modern cathedral, with its outdoor font and brightly painted dome.
We also toured the medieval castle, built by the Crusader kings of Cyprus, which is now home to the local archeological museum.
Laneia, Silikou, and Omodos
While in the region, we stayed for three nights outside the village of Laneia, one of the many picturesque mountain villages in the interior of Cyprus.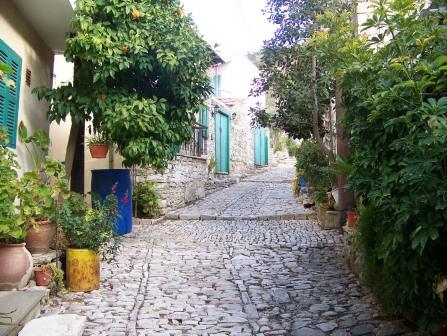 We visited a handful of other mountain villages, with traditional stone houses and steep cobblestone streets.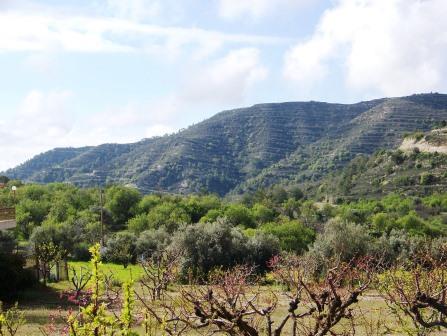 Doros.
Lofou.
This cute little kitten decided to follow us around town.
Silikou.
Omodos.
We had lunch at Omodos on the square, and had to wait while a huge rainstorm passed through.
The day we left Laneia, we stopped at a few more villages.
Both Lagoudera and Asinou are home to beautifully decorated Byzantine churches.
When the Catholic Crusaders took over Cyprus, the Orthodox clergy were forced out of their churches in the coastal cities,
and many fled to the villages of the interior, where they embellished the small churches with elaborate frescoes.
We couldn't take photos inside the churches, but the humble exteriors give little indication of the beauty inside.
Below is the church of Panagia Arakiotissa at Lagoudera, and what was once a monastery next to it.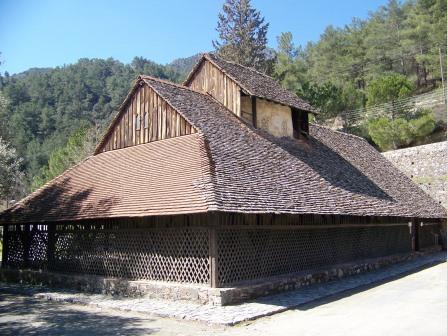 Below is the church of Panagia tis Asinou in Nikitari.
We had lunch that day at Kakopetria. Though much in need of sprucing up, the oldest part of the village is full of nice stone and timbered homes.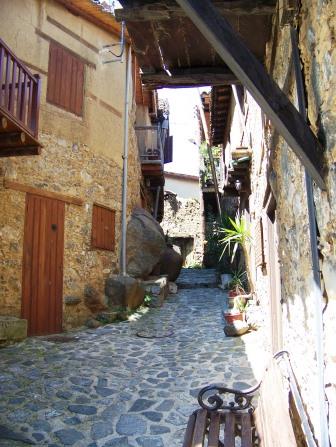 We ate at a quaint traditional restaurant, and were served our wine in pottery vessels.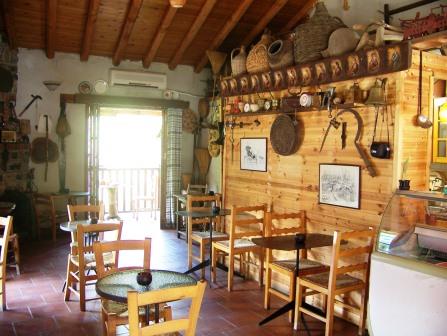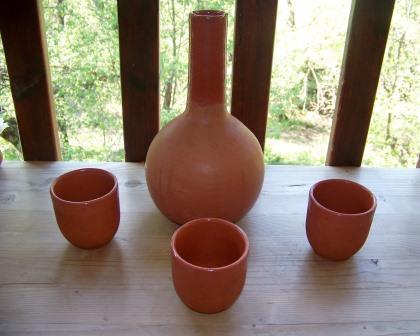 We sat on the balcony and looked down into the ravine to the creek below.
Close this page to see more of our photos.