CYPRUS: The Southwest

Kourion
After our stay in Larnaca we headed west along the south coast, making our first stop at the ruins of ancient Kourion.
This model shows its hilltop location--with a spectacular view out to sea.
A modern covering protects the mosaics found in one home.
Its theater, which also faces out to sea, has been rebuilt.
The town was founded by the Mycenaean Greeks, and then inhabited in turn by Ptolemaic Greeks from Egypt and by Romans.
It eventually became a Christian town, but was destroyed by a catastrophic earthquake in the fourth century AD.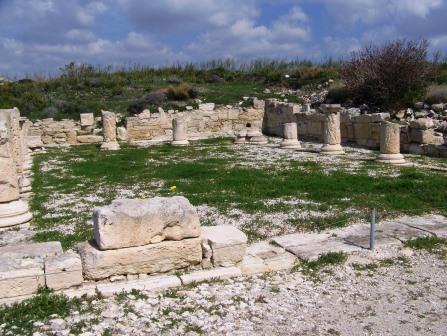 Elsewhere on the site are the ruins of Roman houses with mosaics, including one of gladiators, each identified by name.
Endless cliffs stretched out from the site, and below, a small beach with a few modern resorts.
Here, as elsewhere on our trip, the wildflowers were in full bloom.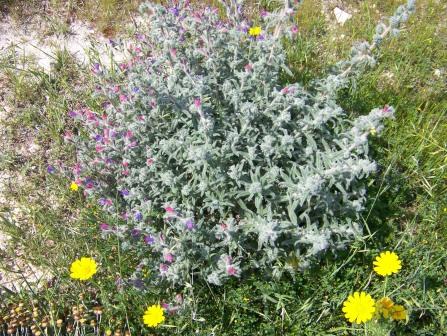 Petra tou Romiou
At the southwest corner of the island of Cyprus is a set of rocks called the Petra tou Romiou.
Ancient legend says that the goddess of love, Aphrodite, who was born from sea foam, came first to land on Cyprus and arrived at this spot.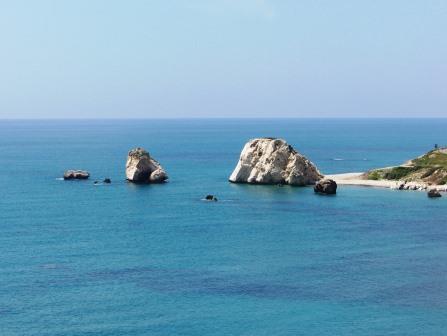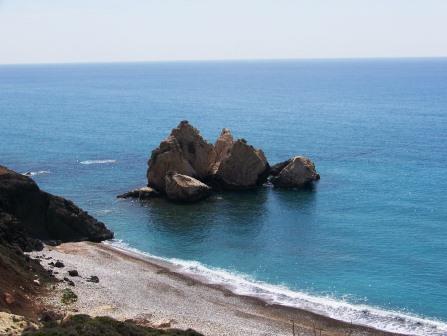 Palaipaphos
Nearby are the ruins of ancient Paphos.
Its called "Old Paphos" because this was the earliest local settlement. It may also have been one of the oldest towns on the island.
It boasted a huge temple to Aphrodite, built in the 12th century BC, who was worshipped in the form of a large black stone.
It was probably this same stone that was found on the site and is now on display in the archeological museum.
The archeological museum is housed in a medieval villa built by the Crusader kings of Cyprus.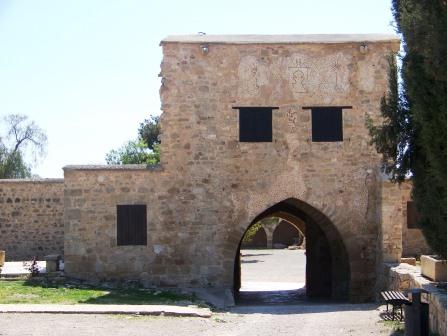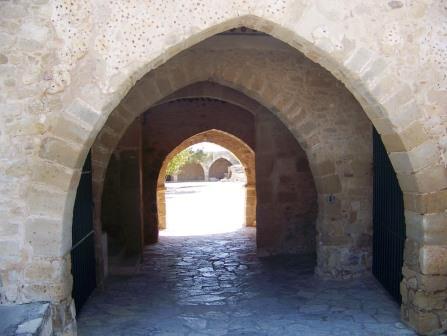 Also on the site is a Byzantine church that has yet to be restored.
Close this page to see more of our photos.