Our Stopover in Windsor and Eton in the UK
It is a long way from San Diego to Cyprus. So we decided to add a stopover on the way there and back.
We were flying into London's Heathrow airport, and so we decided to get a hotel in Eton.
Windsor is just across the river from Eton. It was a great "holiday within a holiday."
We stayed at the George Inn--and highly recommend it!
It was the quintessential English pub, with rooms above.
We had a room with a view to the bridge across the Thames River to the town of Windsor and Windsor Castle!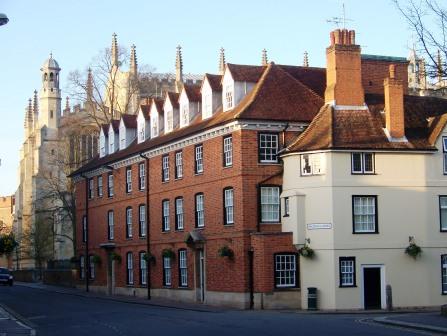 Eton is a quaint town, home to the prestigious Eton College, where most of Britain's elite are educated.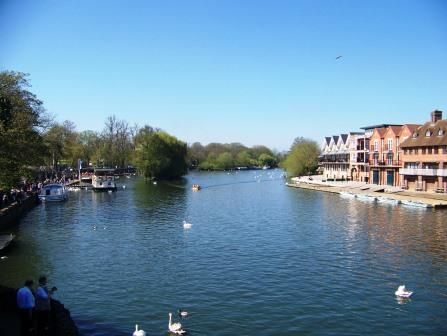 Across the Thames is the town of Windsor, also very attractive--though more touristy.
Christopher Wren, the eighteenth-century architect, designed the guildhall below.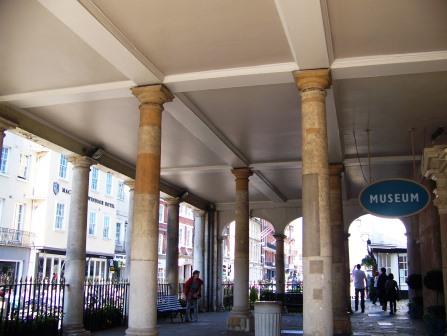 Looming large over the town is Windsor Castle. Begun in the eleventh century by William the Conqueror,
it has been enlarged and embellished over the centuries: most recently after a major fire in 1992.
It now occupies 13 acres (5.3 hectares) of buildings and open spaces within its massive walls.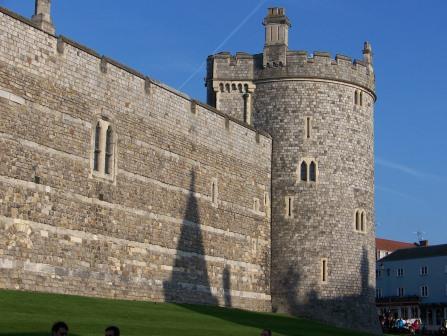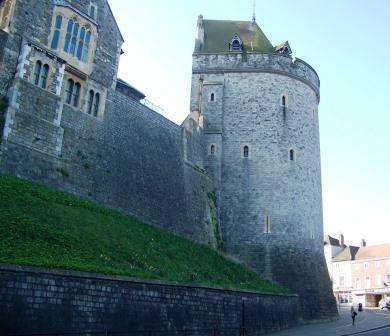 On the return trip, we visited Windsor Castle--and since we had bought our tickets online ahead of time, we were the first ones through the gate!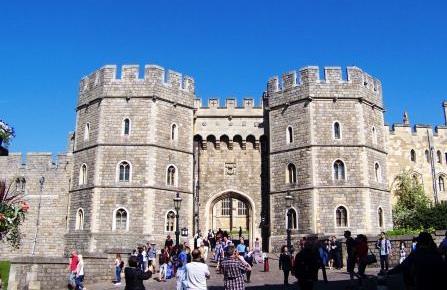 This is the Henry VIII gate. Its details include alternative roses and pomegranates.
The rose symbolizes the Tudor Dynasty of England, to which Henry VIII belonged.
The pomegranate is a symbol of Spain, for Henry's first wife, Catherine of Aragon.
Inside, there are three large courtyards. One is the Upper Ward, and it houses the apartments where the queen stays when she is in residence.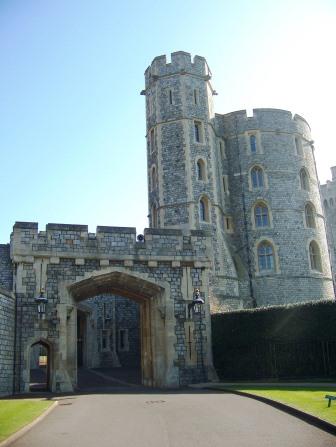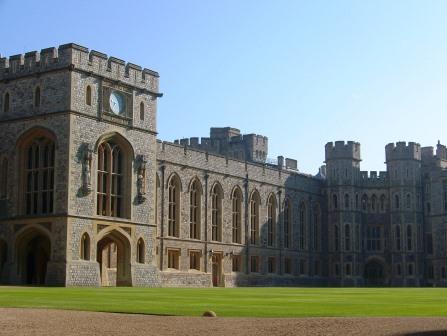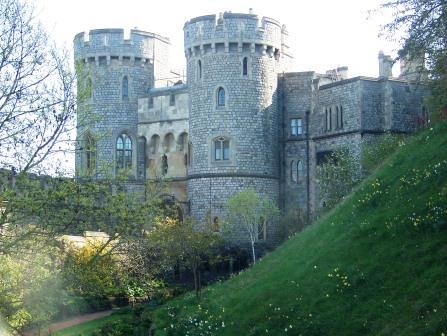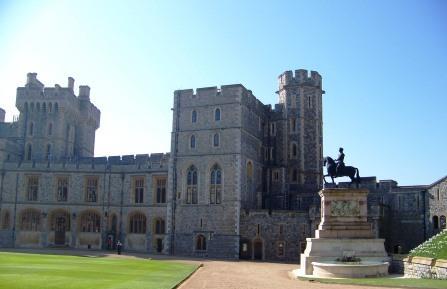 The central part is called the Middle Ward. It was the original part of the castle,
a massive round stone tower set on an artificial hill and surrounded by a moat.
It was rebuilt in the nineteenth century, and now houses the Royal Archives.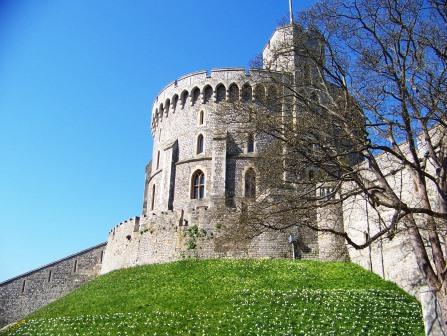 The former moat is now a garden.
There are views from the Middle Ward across the river back to Eton.
There is also a Lower Ward, with residences for the staff of the castle.
Some of these buildings date back to the fifteenth century.
Within the Lower Ward is Saint George's Chapel, built in the sixteenth century.
King Henry VIII is buried beneath the floor of the chapel, with his third and favorite wife, Jane Seymour. So is King Charles I.
The chapel is also the headquarters for the Knights of the Garter, an association of honored knights founded in 1348.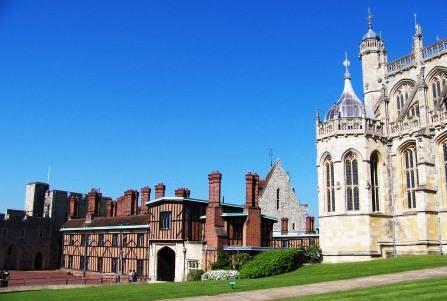 Close this page to view other pages.