Barcelona's diverse museums
Barcelona has many very interesting museums.
One is the Museu nacional d'art de Catalunya (National Museum of Catalan Art),
set in an imposing "Noucentiste" building at the top of Montjuïc hill
that was built for the 1929 Barcelona International Expostion.
The hillside approach to the museum is lined with columns and fountains.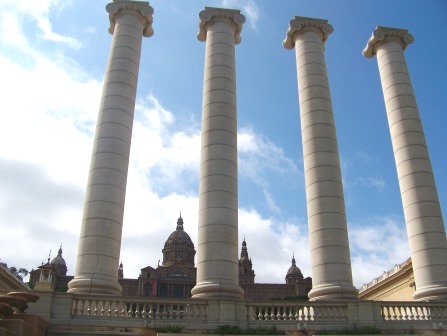 From the front steps of the museum there is an excellent view over the city.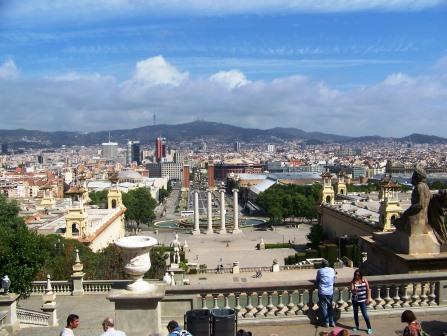 There is a wide range of art inside. One example: these decorate panels made of thousands of tiny colored glass beads.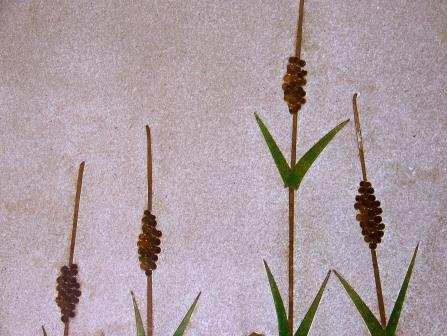 Another great museum is the Museu del Modernisme Català ("Museum of Catalan Modernism") that
showcases this style in furniture and art, with its shapes taken from nature and its use of wood and stained glass.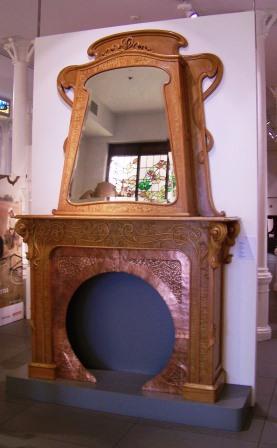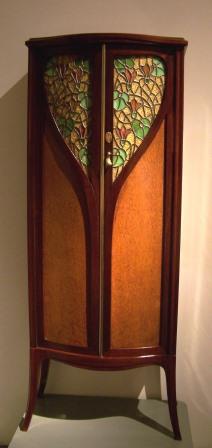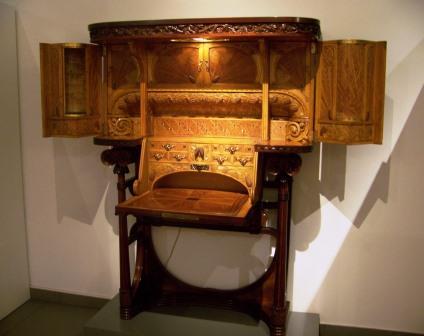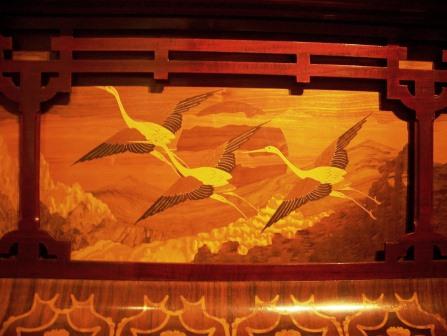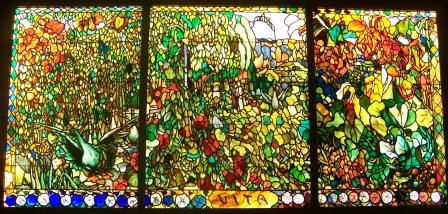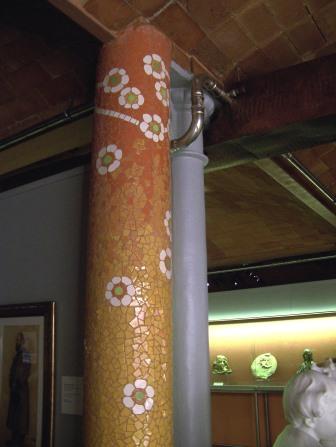 Probably the weirdest of the museums of Barcelona is the Museu Frederic Marès, named after a local sculptor
and housed in the mansion that was his home, built within part of the former palace of the Counts of Barcelona.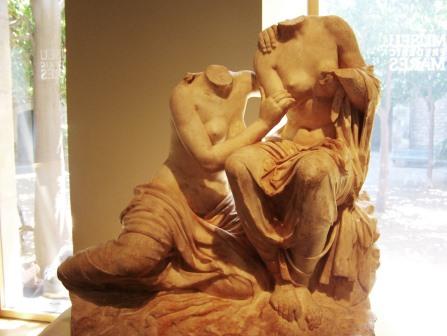 Marès was a wealthy collector of medieval art, and there are literally a
hundred versions each of crucifixions, Madonnas and Child, baby Jesuses, and such.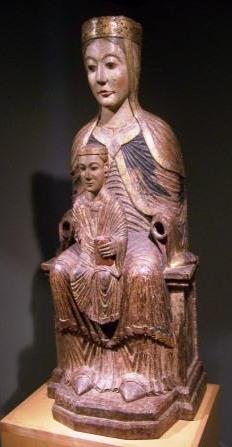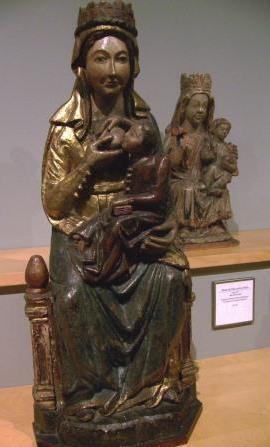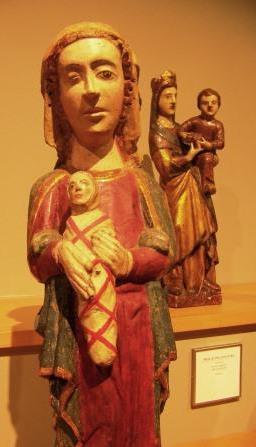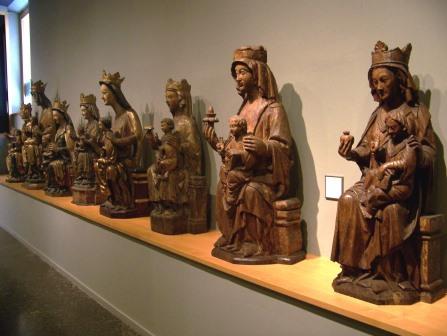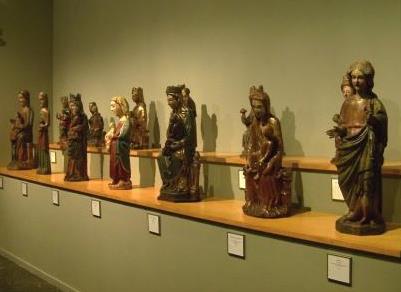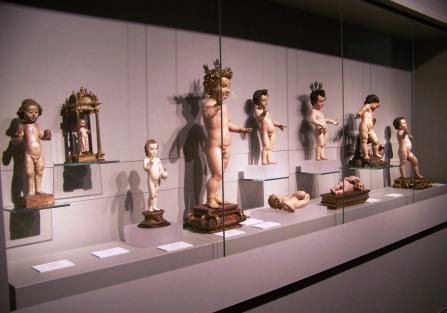 The statue below, from the nineteenth century, used real fabric and real hair.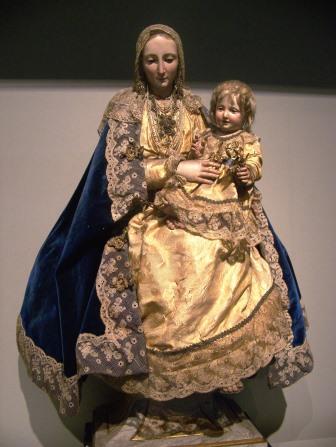 Below: Saint John laments at the foot of the cross.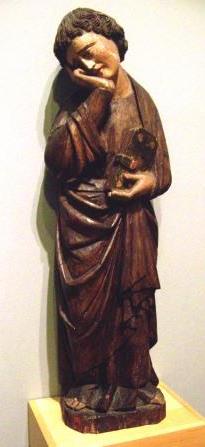 Below left: Saint Sebastian (marytred by being tied to a tree and shot with arrows).
Below right: Saints Gervasius and Protasius (twin brothers, also martyrs).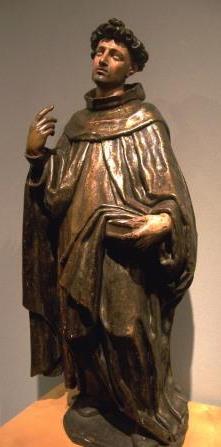 Above and below: unknown but expressively creepy statues of saints.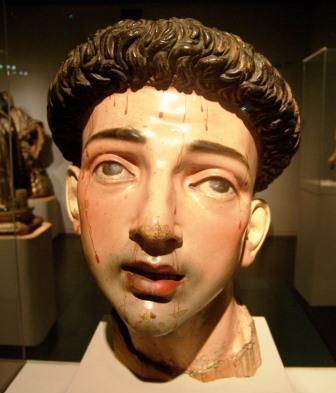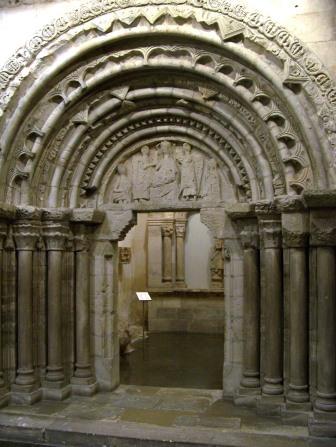 In fact, there is lots of everything in the Frederic Marès museum. (Can we say "hoarder"?)
Room after room of hundreds of women's fans and hatpins, armor and weapons and bedwarmers,
collectible cards, eyeglasses and pipes, men's hats and walking sticks, snuffboxes--you name it!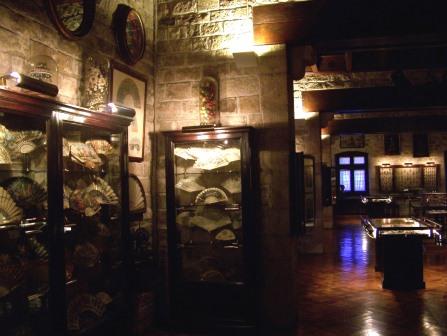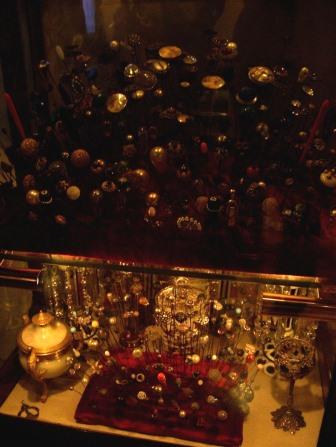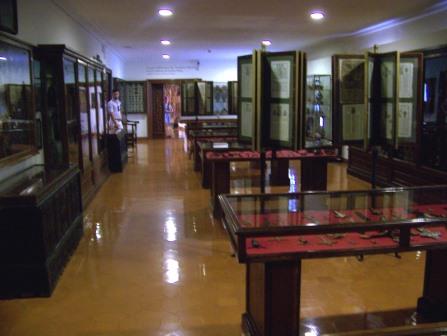 There were also a few examples of Mares's own sculpture. A talented but obsessive individual.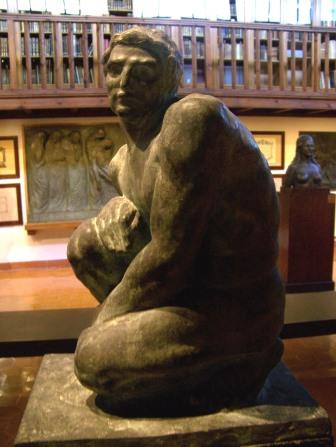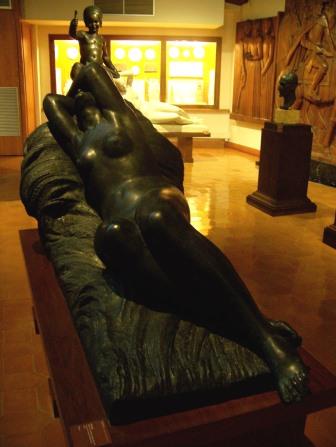 Barcelona's newest museum is called Disseny Hub ("Design Hub"). It brought together several small museums
devoted to graphic arts, clothing, and decorative arts--now each one a floor of the new museum.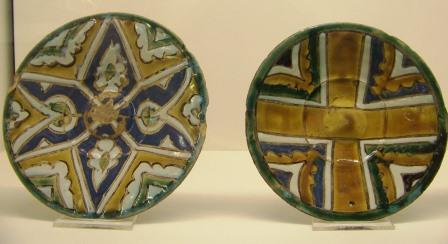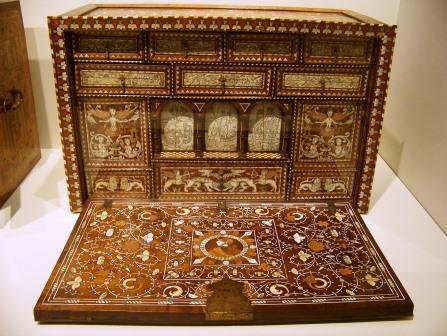 Examples from the decorative arts floor. Above: pottery bowls, and an elaborate portable chest
of inlayed wood with multiple compartments. Below: glass bottles of unusual shapes.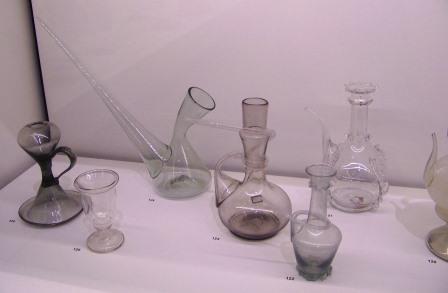 The Museu de la Història de Catalunya ("Museum of Catalan History")
provides an overview of the region from prehistory to the present day.
Above: a crosscut replica of a Roman ship loaded with olive oil and other goods.
Below: actual remnants of a Visigothic barbarian era Christian baptismal font.
Above: Joe demonstrating the use of an Arab era irrigation system.
Below: three examples of stonework from the Roman, Visigothic, and medieval periods.
Above: replica of a mounted medieval warrior.
Below: image of an elaborate medieval church portal.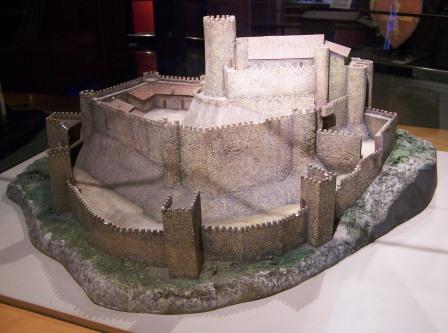 Above: model of a medieval castle.
Below: model of the medieval palace of the Kings of Mallorca
(in Perpignan, part of medieval Catalonia but now in France).
Above: a model of the Hospital de la Santa Creu i Sant Pau by Lluís Domènech i Montaner.
Below: a sculpture by Josep Clarà, another talented early twentieth-century Catalan scultptor.
Among the more interesting displays were a series of replicated kitchens from Catalan history.
Above: an iron age kitchen. Below: a medieval kitchen.
Above: a kitchen from the early twentieth century.
Below: a kitchen from the late twentieth century.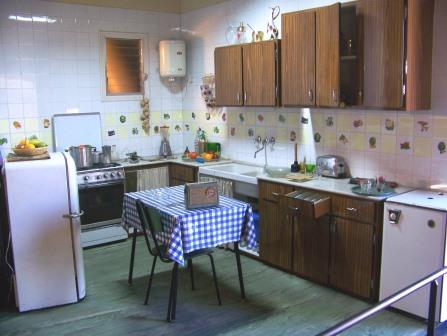 The displays on the Spanish Civil War were particularly poignant.
The Catalans were the last to hold out against Franco and his fascists and paid a heavy price for their resistance.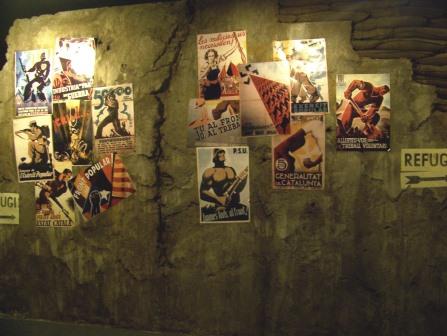 Yet another worthwhile museum was the Museu Marítim ("Maritime Museum").
It is housed in the medieval shipyards of Barcelona, called the Drassanes.
It is a huge vaulted structure where ships were built and launched.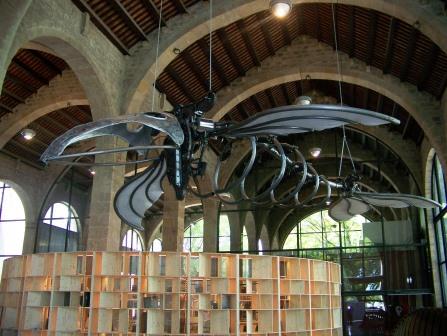 There were neat ultramodern spaces and sculptures (like the gift shop and a giant fish, above).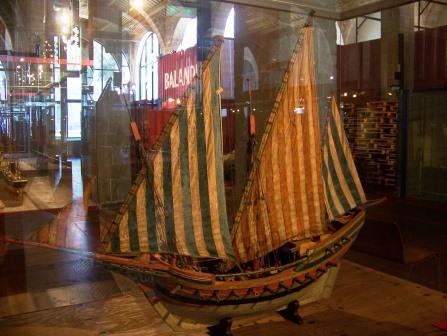 There were also lots of models of ships: ancient, medieval, and modern.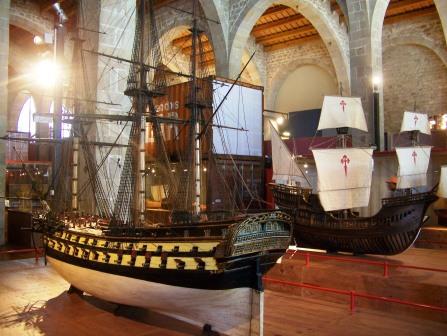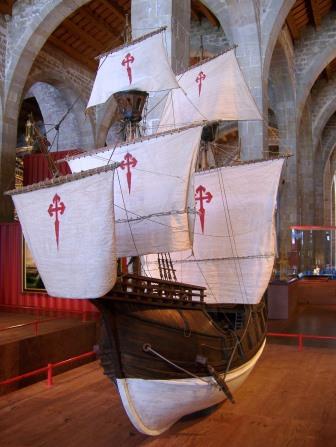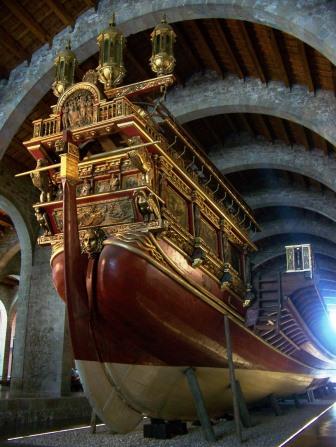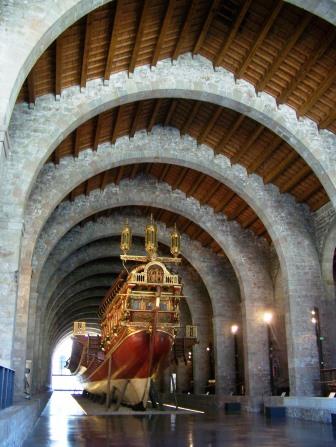 Especially impressive was the full-sized replica of a sixteenth-century galley,
60 meters (about 180 feet) long (above and below on the right).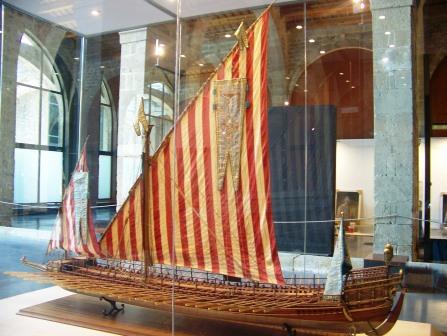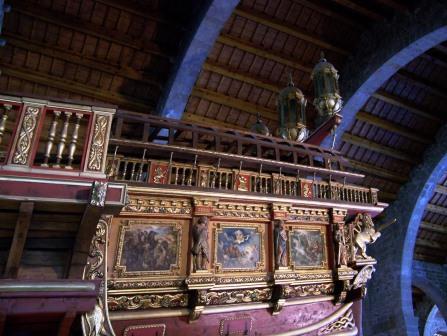 As interesting as the models was the building itself.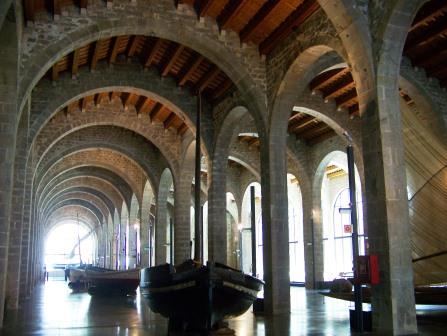 Close this page to return to the main menu of our Barcelona photos.