The works of Antoni Gaudí,
Barcelona's most famous architect
The imprint of Gaudí on the city of Barcelona is unmistakable.
Casa Batlló is intended to resemble a dragon and also the dragon's cave.
(Saint George, who is said to have slain a dragon, is the patron saint of Catalonia.)
The building's spire might be seen as Saint George's lance piercing the dragon.
Casa Milà was nicknamed "the Quarry," not because of its appearance
but because the blocks of stone were brought to the site to be shaped to fit.
It is supposed to resemble waves of the sea, with "seaweed" railings on the balconies.
Casa Vicens (now closed for renovation) was built for a tile manufacturer, highlighting that material.
The Col.legi de les Teresianes (College of the Teresians, a Roman Catholic order of nuns)
may reflect the "interior castle" of Saint Teresa of Ávila, after whom the order is named.
The Basilica of the Sagrada Familia (Holy Family), begun by Gaudí in 1883 and an emblem of the city
of Barcelona, is now being completed in time for the hundredth anniversary of Gaudí's death (2026).
Models show what it will look like when completed.
The eastern or Nativity facade was completed in Gaudí's lifetime.
The western or Passion Facade was begun only in 1954, and its sculptures made in the 1980s.
There is a lot of controversy, since it looks so stark and different from Gaudí's detailed facade.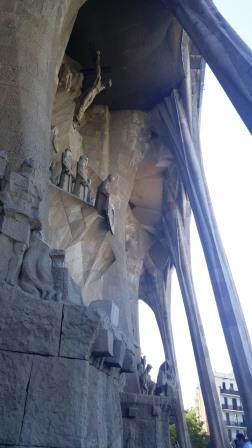 In fact, there is a lot of controversy about the whole project, since it is not entirely clear what Gaudí intended,
since his plans were destroyed after his death. Nonetheless, it is hard to deny that the building is impressive.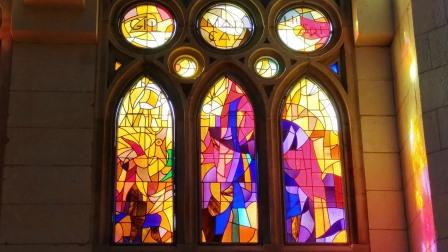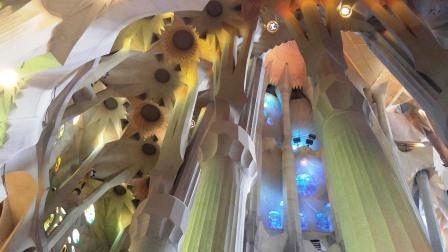 An exhibit in the crypt of the church shows the natural shapes that influenced Gaudí's designs.
One carved capital in the cloister of the church shows the devil, in the form of a serpent, handing a bomb to an anarchist.
This alludes to an event that happened in 1896, when a bomb was thrown into a Corpus Christi procession in Barcelona.
Another of Gaudí's famous Barcelona landmarks is Park Güell.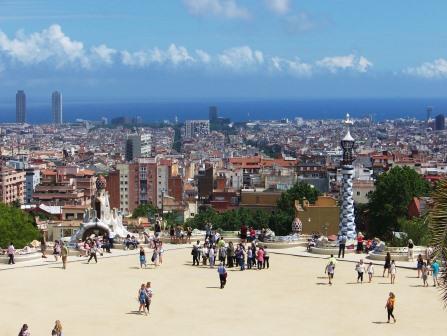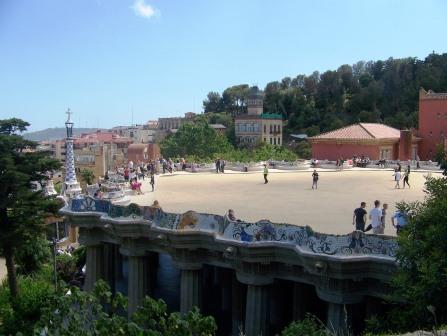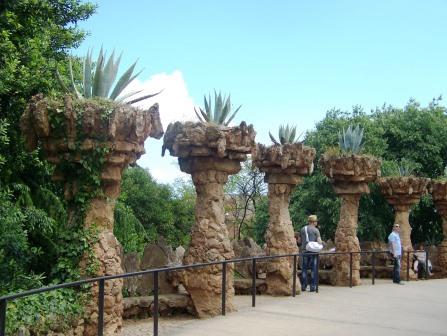 The park offers views over the city of Barcelona.
Close this page to return to the main menu of our Barcelona photos.